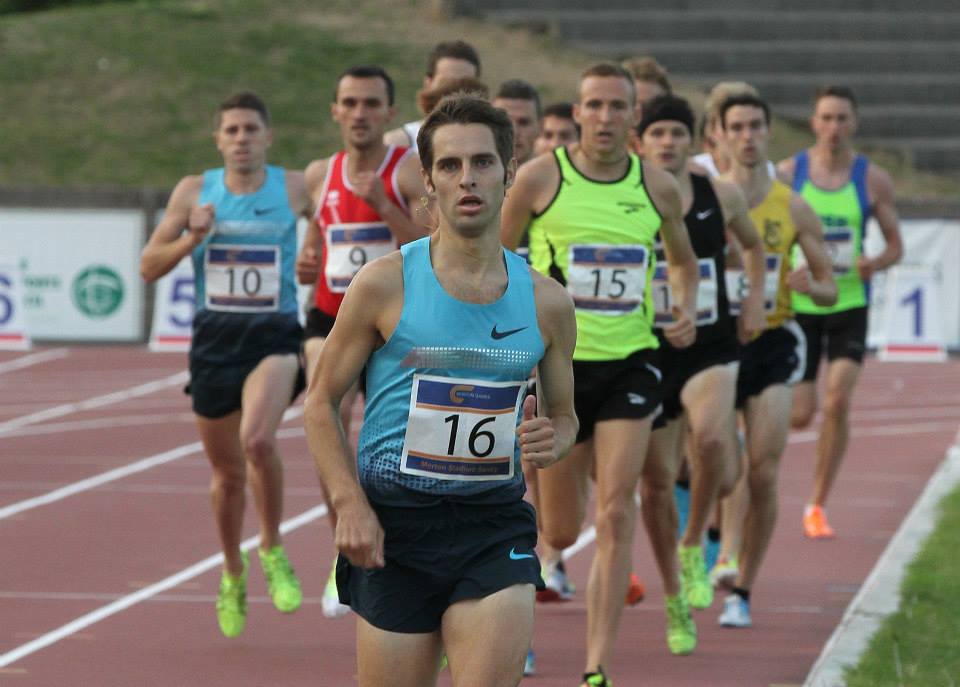 (Pictured above) Cory Leslie (USA) leads the Morton Mile July 17th, 2013 
About:
Since the 1930s Clonliffe Harriers promoted an annual International Summer Sports Meet. The highlight of this Meet invariably was the open invitational Mile. This Meet took place at various locations in Dublin including Croke Park and the IRFU grounds at Landsdowne Road. When Clonliffe Harriers built the Clonliffe Harriers Stadium in Santry the annual international Summer Sports were held on an annual basis there. 1958 Clonliffe held two international Sports Meets, the 'July Sports' and the 'August Sports'. On the 6th of August 1958 Herb Elliott set a new world mile record of 3:54.3 as for the first time in history five athletes in the same race ran sub four minute miles. Following on the death of Billy Morton in 1969 Clonliffe Harriers began commemorating his memory with the annual Morton Mile. Over the years the Morton Mile has attracted top class milers including several Olympic champions: Steve Ovett, John Walker and Kip Keino as well as other top international milers including Steve Scott, the mile stadium record holder and Irish Olympians Eamonn Coghlan, Marcus O'Sullivan, Frank O'Mara, Ray Flynn and Clonliffe's own Niall Bruton.
Financial considerations over the years meant that the Morton Mile did not always feature as part of an international event, at times it featured in domestic competition including Dublin County Board Meets, for which Clonliffe Harriers are grateful, the Dundrum International Sports and indeed on occasions as a club race only. In recent years, however, Clonliffe Harriers have endeavoured to hold a stand alone Track and Field Meet with the Morton Mile as the feature event. In 2008 a very successful international Track and Field Meet was held to mark the fiftieth anniversary of Herb Elliott's world mile record which attracted top class international athletes. The Morton Mile on that occasion being won by Rob Myers (U.S.A.). In recent years the Morton Mile has been won by Will Leer (U.S.A.) and Jordan McNamara (U.S.A.). To mark the club's 125th anniversary the club promoted the Clonliffe 125 Track and Field Grand Prix. It is the intention of the club to continue with an annual international Track and Field Meet. A most successful International track and field meet called the Morton Pre-Games took place on the 25th of July 2012 which featured athletes from 16 countries as well as 15 Olympic bound athletes. The highlights of this meet included an exciting Morton Mile won by the 2010 Champion Will Leer in 3.56.39 with ten athletes running sub four, a women`s International mile won in a new stadium record of 4.30.65 by Nicole Schappert (USA) and a new stadium record set in the Albie Thomas men`s 3000m by Ben True (USA) of 7.44.40. The 2013 Morton Games produced three stadium records: 800 of 1.45.32 by Mark English (IRL/UCD), women`s mile of 4.30.44 by Brie Felnagle (USA) and a joint pole vault record of 5.56m by Igor Bychkov (ESP)/ Luke Cutts (GBR).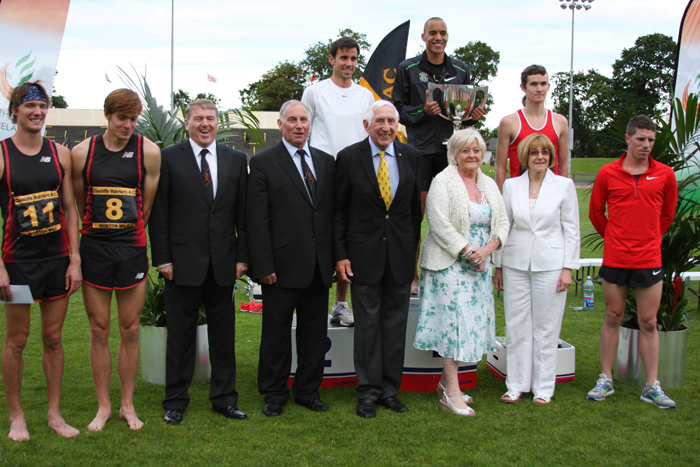 (pictured above) Presentation party including 1956 Olympic Gold Medalist Ronnie Delany, Paddy Marley(President Clonliffe Harriers) Yvonne and Billie Morton, July 8th, 2011
Where:
The Morton Stadium, Santry, Dublin 9, Ireland.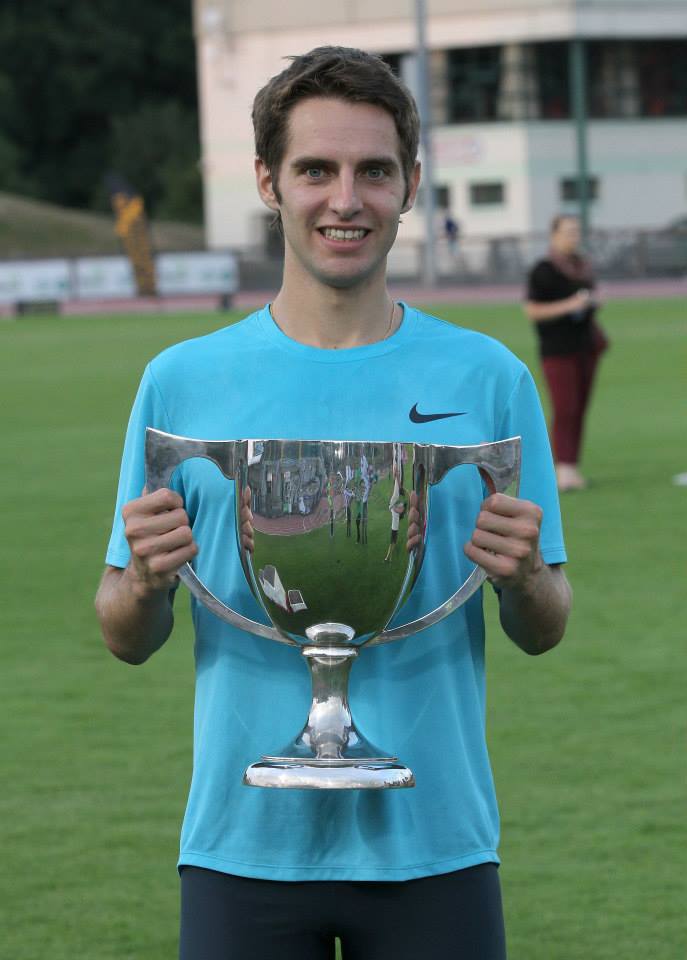 (pictured above) Cory Leslie (USA) Morton Mile Champion 2013 (3.55.85).
When:
Friday July 11th  2014
Contact:
Contact details mortongames@hotmail.ie or the Meet Director Noel Guiden on 087 959 9888.
Event web site: