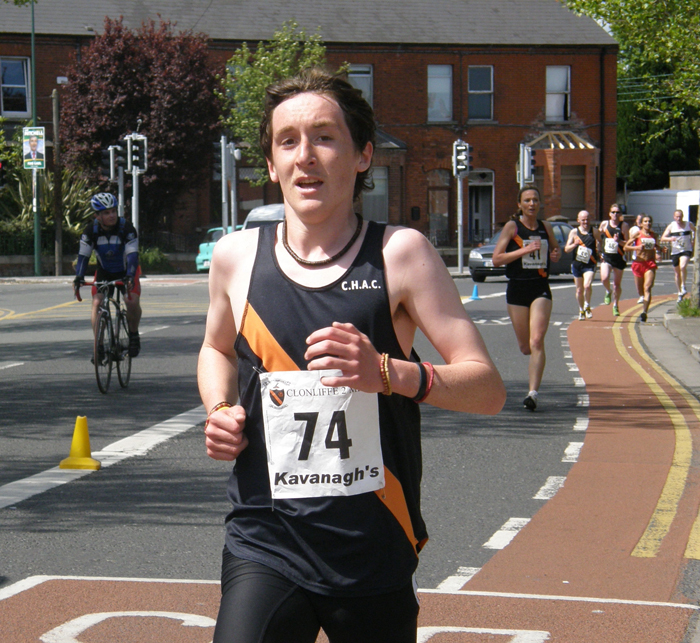 About:
The Clonliffe 2 Mile Road Race is the oldest continuous Road Race in Ireland and one of the oldest in the world. The race commenced in 1891 as a club race, soon to become an Invitational 2 Mile and eventually an Open Road Race. The latest running of the race in 2013 was the 122nd consecutive annual running of the Clonliffe 2. The event caters for elite athletes as well as fun and social runners with prizes for the fastest men and women, juniors and masters, as well as the ever popular Clonliffe 2 t. shirt for all participants.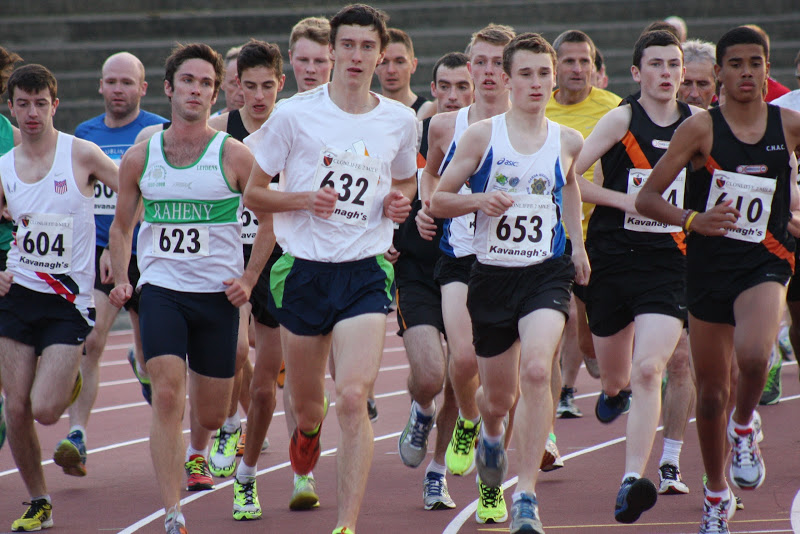 Where:
The Clonliffe 2 in 2013 returned to Santry with the race starting on the Morton Stadium track and upon exiting the Stadium heading north turning left into Northwood, heading past the Crowne Plaza Hotel before swing left into Santry Demesne Park, taking in a loop of the park and re entering the stadium at the rear and completing 300m of the track. The race HQ is Clonliffe Harriers Clubhouse, Morton Stadium. The Clonliffe 2 had formally been run on the "traditional" point to point route from underneath the iron pedestrian bridge at Finglas Village heading down the Finglas to Glasnevin Road turning into Prospect Square where the race finished at Kavanaghs 'The Gravediggers'. Clonliffe Harriers are indebted to our race sponsor Mr. Eugene Kavanagh of 'The Gravediggers' who has been sponsoring this race since 1986 and continues as race sponsor to this day.
Course from 2013:
Click here to view map:     clonliffe-2-mile_map1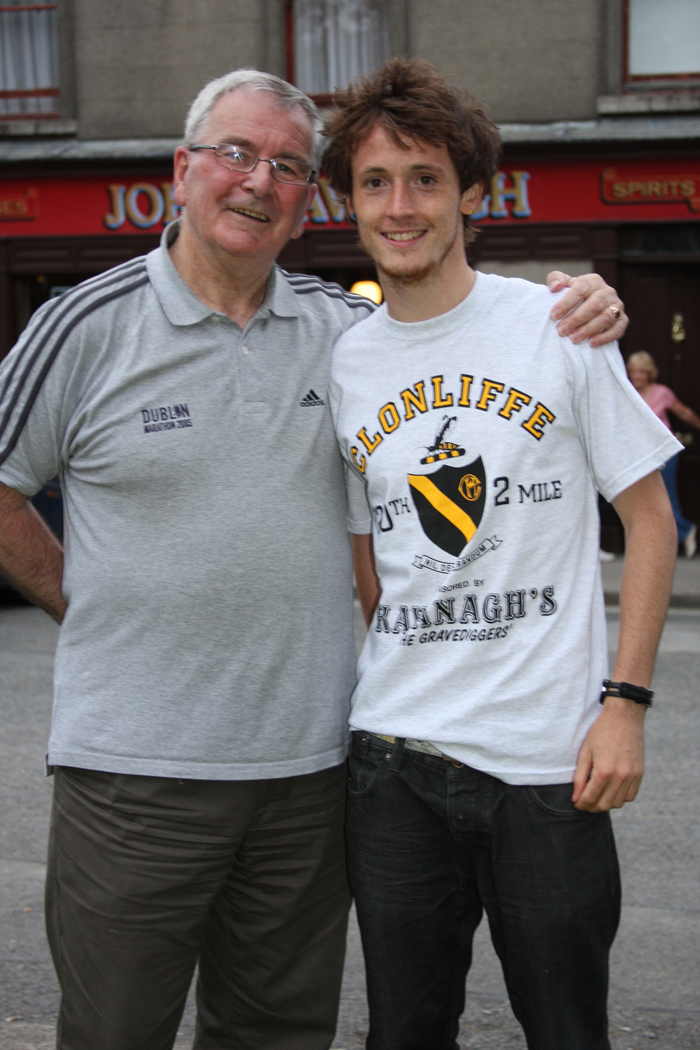 (pictured above) Eugene Kavanagh of Kavanagh's 'The Gravediggers' with David Fitzmaurice winner of the 2011
Clonliffe 2
When:
The next Clonliffe 2 takes place on a date to be confirmed in 2014
Entry Details:
On the night at the Clonliffe Harriers Club house, Morton Stadium, Santry from 5.30pm to 7.00pm €15.00 seniors/ €10.00 juniors
Contact:
The Race Director is Mick Kearney and his contact mobile number is 087 624 3843.
Recent Winners of the Clonliffe 2:
2013 Darragh Greene (Dunleer AC) 9.28 Venue: Santry
2012-John Travers (Donore Harriers) 8.56
2011-David Fitzmaurice (Clonliffe Harriers) 9.04
2010-Paul Flemming (Rathfarnham) 9.20
2009-Aidan Bailey (Clonliffe Harriers) 9.20
2008-Paul Flemming (Rathfarnham) 9.36
2007-Sergiu Ciobanu (Clonliffe Harriers) 10.33 (variation of course route used)
2006-David Byrne (Tallaght AC) 9.23
2005-Paul McNamara (Athenry AC) 9.16
2004-Paul Flemming (Rathfarnham) 9.12
2003-Isaac Kimuge (Kenya)
2002-Killian Lonergan (Clonliffe Harriers) 8.44
For recent results of the Clonliffe 2 please click on the links below:
121st Clonliffe 2 Results (9th May 2012)
122nd Clonliffe 2 Results (5th September 2013)