Many thanks for entering this year's Clonliffe 2 Mile. I want to provide you with some final instructions for this Sunday.
The 130thClonliffe 2 Mile Road Race and Fun Run takes place this Sunday 7thNovember 2021 at 11am. The race starts and finishes on the track in Morton Stadium.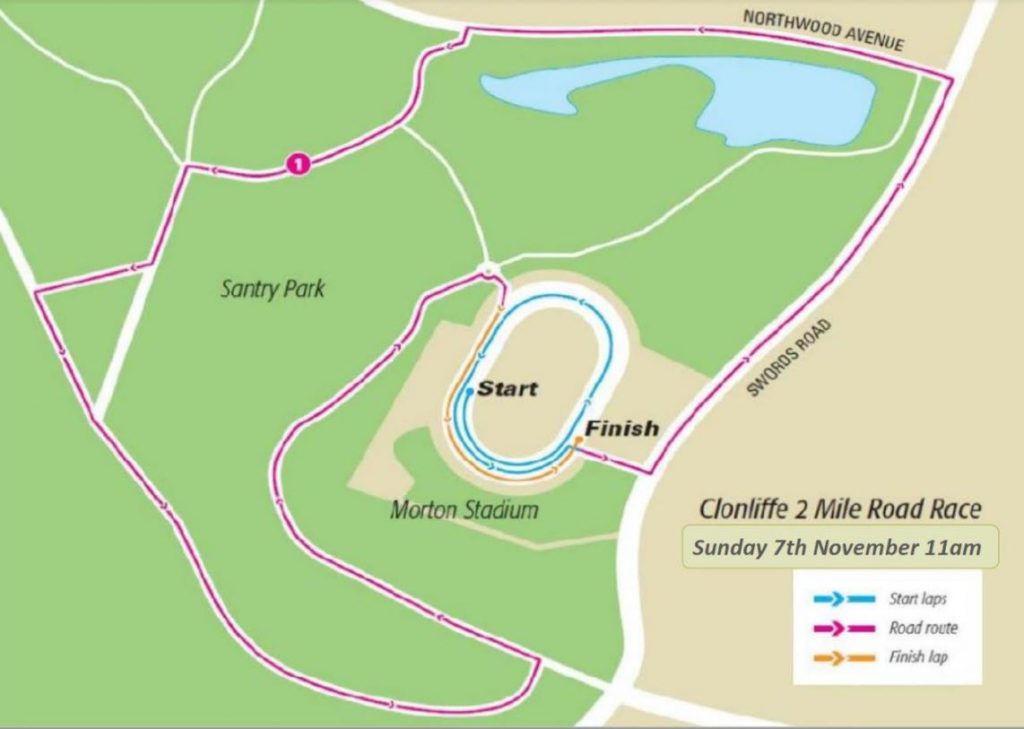 This year's race is fully subscribed and it is not possible to accept any further entries.
Runners must collect their race numbers in the Clonliffe Club House. Check-in opens at 9.30am, it is advisable to arrive early to faciliate orderly collection of race numbers. Please wear a face mask when entering Clonliffe Club House.
As you will appreciate holding an event during the pandemic poses a number of challenges. It is important that all runners, officials and spectators familiarise themselves with the Covid matters outlined below before arriving in the Stadium on Sunday.
It is recommended that you arrive at the stadium on foot or by Public Transport as there is very limited parking in Morton Stadium. If you have to drive use one of the car parks in the vicinity of the Stadium (see below).
RaceOfficials – Clonliffe Harriers – Report from 9.15am
If you are not running on Sunday we would ask, members of Clonliffe Harriers, that you make yourself available as a race official. Please being a mask with you.
We would appreacite those officials that can report early do so from 9.15am. It would be appreciated if all other offficials could report by 9.45am. A formal health and safety briefing will take place at 10am outside the Clonliffe Club House.
Runners – Race check in
The race will start at 11am in Morton Stadium on Sunday morning 7thNovember 2021.
Race check, commencing at 9.30am will be in the Clonliffe Harriers Club House where race numbers must be collected on the morning of the race.
Please wear a face mask when collecting your number.
All runners should arrive in Morton Stadium by 10am to give sufficient time for race numbers to be collected.
Due to Covid Protocols there will be no changing facilities in the Stadium on the day of the race.
Also due to Covid we will be unable to provide refreshments at the finish. If you are bringing your own refreshments do so in an identifiable bottle and never share it with anyone.
COVID-19 Prevention and Control Measures
As this year's race is taking place during a pandemic Clonliffe Harriers wants to ensure the Health & Safety of all attending the Clonliffe 2 Mile.
Please familiarise themselves with the current Covid 19 regulations and procedures (see below).
If you have any symptoms of Covid 19 or waiting on a test/test results you may not attend this event
Matters you need to review prior to attending the event
Are you experiencing any symptoms of cough, fever, high temperature, sore throat, runny nose, breathlessness or flu like symptoms now or in the past 14 days?Yes/No
Have you been diagnosed COVID-19 infection in the last 14 days or are you waiting on a Covid 19 test or test results?Yes/No
Are you a close contact of a person who is a confirmed or suspected case of COVID -19 in the past 14 days (i.e. less than 2m for more than 15 minutes altogether in 1 day)?Yes/No

Note: If your response is Yes to any of questions 1 to 3, you should not attend the event and are strongly advised to follow or seek medical advice if appropriate.
 
Respiratory Hygiene
COVID-19 disease can be spread by respiratory droplets when a person coughs or sneezes, and transmission may occur when these droplets enter the mouths, noses, or eyes of people who are nearby.
Good respiratory hygiene and cough etiquette is also a necessary preventive measure during any the Clonliffe 2.
Use a tissue to cover your mouth and nose every single time youcoughor sneeze.
Coughinto your elbow if a tissue is not available.
Nevercoughinto your hands or open air.
Always turn your face away from people around you whencoughingor sneezing.
Participants should refrain from spitting at all times.
Physical Distancing
Physical distancing is recommended to reduce the spread of infection. The current recommended distance to be maintained between people to minimise risk of transmission is 2 metres.
All participants should observe, where possible, physical distancing by maintaining 2 meters apart on arrival and on departing the Morton Stadium.
Individual Prizes
Senior Men and Women 1st2nd3rdplaces
Junior Men/Women 1st2nd3rdplaces
Masters1stcategory
Commemorative tee shirt
A special commemorative tee shirt will be given to each participant.
Race sponsor
The race will be sponsored this year by the Kavanagh family in Glasnevin. The late Eugene Kavanagh commenced sponsoring this race back in the mid 1980s. Clonliffe Harriers are very grateful to the Kavanagh family for their continuing sponsorship of this event.
Public Transport
Participants are encouraged to avail of public transport when coming to Morton Stadium.The following Bus routes can be used to get to the Stadium,
No's 16, 17A, 27B, 33, 41.
Parking
There will be very limited parking facilities within the Stadium on a first come first serve basis.
Car parks in the vicinity include the following:
Santry Demesne Car Park on Swords Road
Centra Car park-opposite Main Gate to Santry Demesne
Omni Park – 10 mins for Stadium on Swords Road on City side of stadium
Airways Industrial Estate – 10 minutes from Stadium on Swords Road towards the Airport
Gullivers Retail Park – behind Santry Demesne – 15 minutes from Stadium
First Aid
Members of John's Ambulance will be in attendance for the event.
Garda Siochana
Arrangements have been made to have a Garda presence for the race
Weather forecast for Sunday
Dry with some sunny spells. Highest temperatures generally ranging 9 to 12 degrees in light to moderate west to northwest breezes.
Have a safe and enjoyable run
Mick Kearney
Race Director