Declan Power Reports: On a busy afternoon of track and field action in Tullamore, Co. Offaly, yesterday, both Clonliffe Harriers Men's and Women's teams competed in their respective National League Premier Division
Finals, with our Men's team ultimately – and brilliantly – retaining their title from 2019 (after the
2020 event cancellation). This continues a dominant streak for the men in Black & Amber, with
multiple National League titles stretched across the past decade.
It's a day when athletes are often called upon to toe the start-line or the field in more than one
event – and in some cases in a less-favoured event – to gain valuable team points. Times and marks
are not the priority, it's all about places, which translate into points for the team. Our Harriers, men
and women alike, demonstrated that versatility on the day, being prepared to put the needs of the
team ahead of personal pride.
First up, let's recap on a highly respectable overall display by our Women's team, which featured a
mixture of some experienced campaigners as well as others who are new to the League format and
its demands.
A new face for the Harriers, Aisling Killilea got us off the mark, taking 5th place in the 1500m Walk in
what was her debut race in the discipline! Natalia Gill took 7th place in the 400m Hurdles, after a
tricky outside lane draw where the track moisture from the morning rain showers was evident,
making the conditions slippery underfoot particularly on the bends. Next up, our 4 x 100m Relay
team (Sally Sumola, Lauren Carr, Leah Bergin, Natalia Gill) took 6th place, when closing fast and only
0.3 seconds away from 4th at the finish. Laura Tuite ran an impressive sub-5 minute clocking in the
1500m for 3rd place, followed by a 4th place for Leah Bergin in the 400m. Next up, saw Emma
Mitchell, these days more familiar as a long-distance runner (and Northern Ireland record holder)
drop down to the 3000m. Emma ran a patient, tactically astute race, content to follow the pace in a
leading trio for 5 laps before gradually increasing the pace thereafter and powering home to take
the win with ease. Lauren Carr picked up more precious points, with a 5th in the 200m and then
Jenny Johnston showed fine endurance to take 3rd in the 800m, when closing in rapidly on 2nd by the
finish. Sally Sumola was in action again, taking 5th place in to 100m, by now running into a stiff
headwind. Finally, on the track, our 4 x 400m Relay team (Lauren, Leah, Jenny, joined by Alannah
Cooley) were 7th with some tired legs among the team evident after their efforts across multiple
events on both track and field.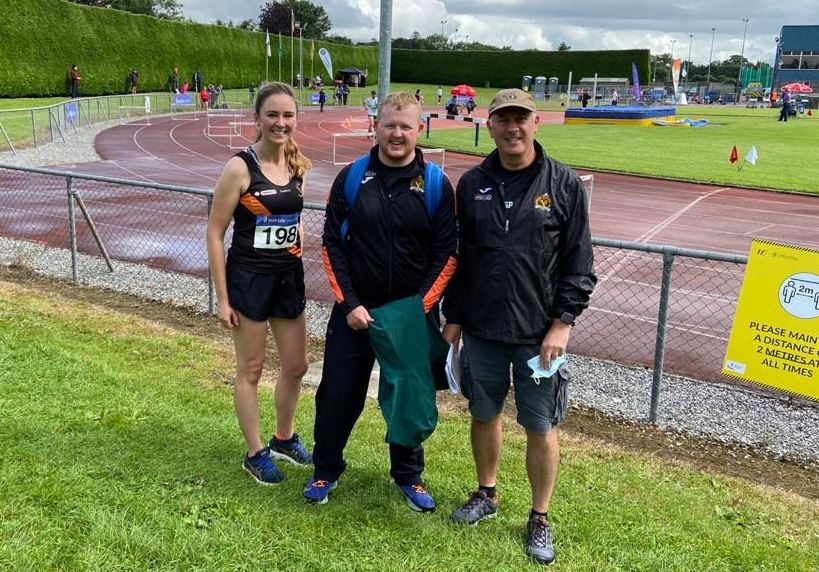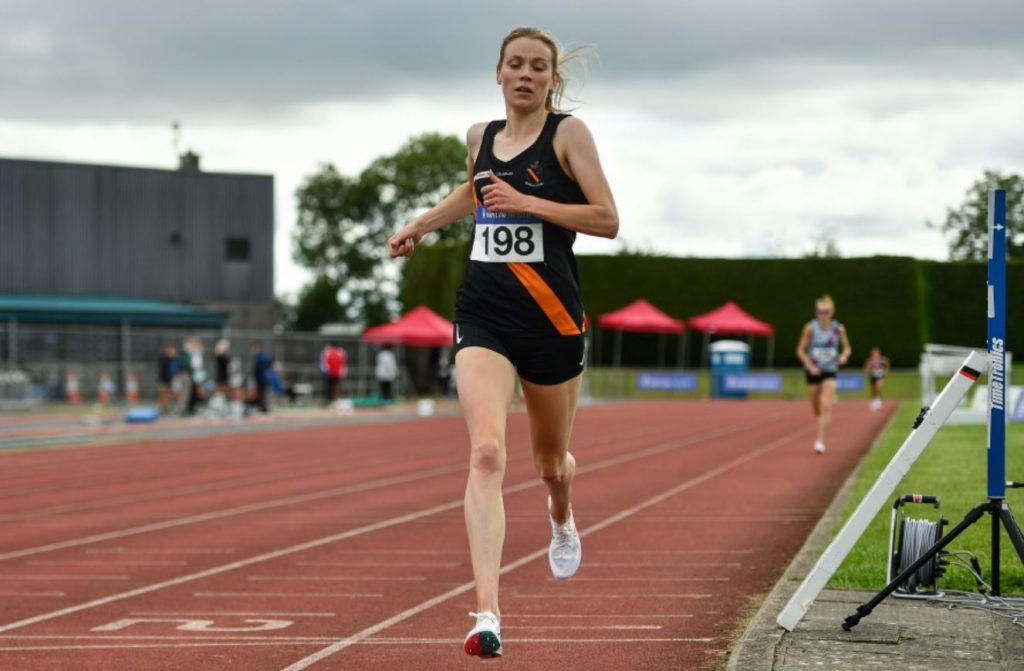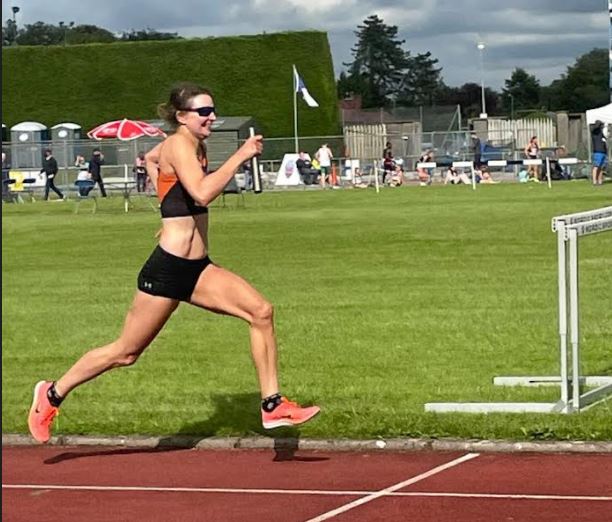 Our field athletes (and our versatile track-turned-field athletes) boosted our points total across a
number of events. Lauren Carr was busy again, taking 5th in the High Jump with a leap of 1.45m.
Denise Byrne got her day off to a start with 4th in the Shot, while later improving on that with 2nd in
the Javelin, – a fine 36-metre effort in a series of throws which ultimately proved to be the last for
her javelin implement when it snapped in two! If anyone is in the market for a pair of Nordic walking
poles, let us know! Caoimhe Morris bolstered the points total with a 5th in the Discus and 1st in the
Hammer (her 40-metre throw securing a maximum '9-pointer' for the team). Finally, Jenny Johnston
stepped into the breach for the 28lb weight throw, chucking it over 4 metres for 4th place and more
points.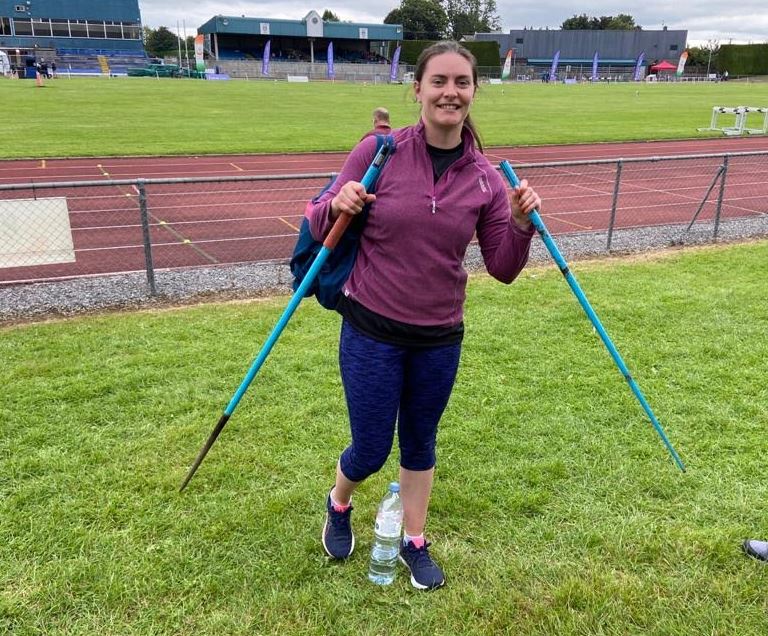 The Women's team finished the day on 77 points for 6th place overall (among 8 Premier Division
teams), safely preserving their Premier status for another year – and more importantly within 15
points of 3rd place which bodes well among a group which includes several new and improving
athletes.
Now, we turn our attention to the title-winning performance by our Men's team, who prevailed
thanks to a dominant display in the field, supplemented by a solid and consistent display on the
track.
Beginning with the field, and in this case 'the field outside', Simon Galligan set the tone with 1st place
in the Hammer, throwing just shy of 60 metres. Simon later added points with 6th place in what's for
him an unfamiliar event, the 56lb weight throw. Rolus Olusa was arguably our star performer on the
day, with two 1st places (4.0m Pole Vault and 13.75m Triple Jump) either side of his hurdling exploits
(see later). Keith Marks took 1st in the Long Jump (7.07m) before switching to his 'old event', turning
the clock back to leap 1.85m for 2nd place. Eoin Sheridan went up at the double against the
Breathnach brothers of Galway City Harriers in the Discus and Shot, taking 1st and 2nd in those events
respectively, which in hindsight was a terrific performance. Finally, Stephen Rice dominated the
Javelin, throwing over 70 metres with his final effort to take full points for 1st place.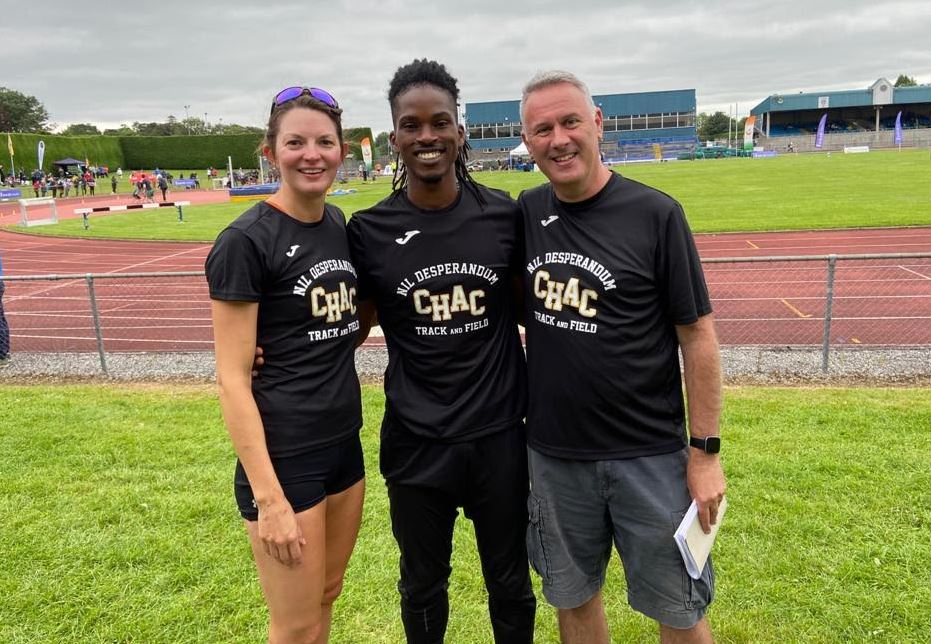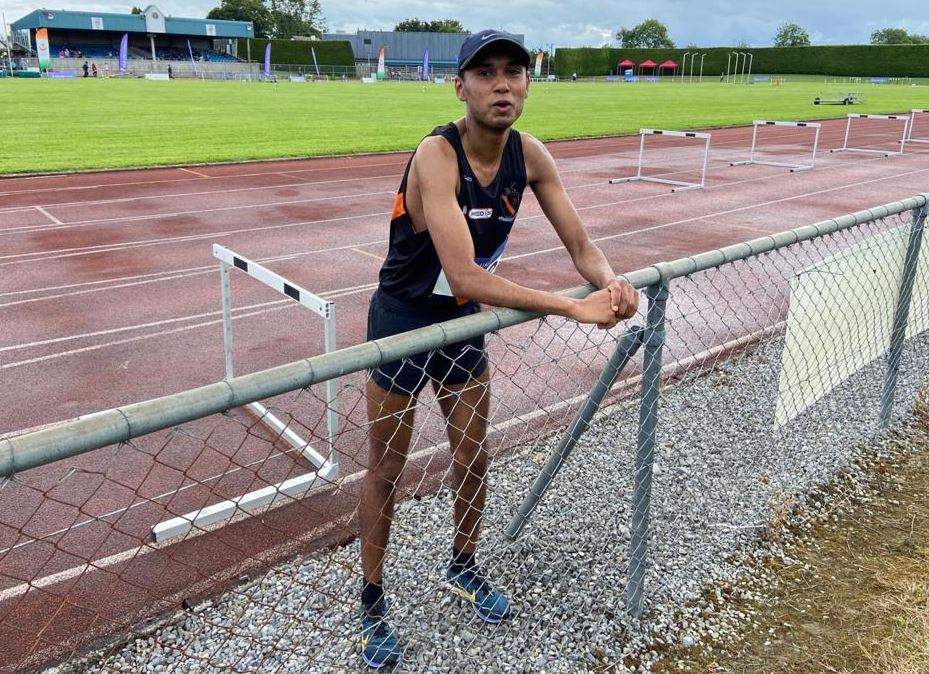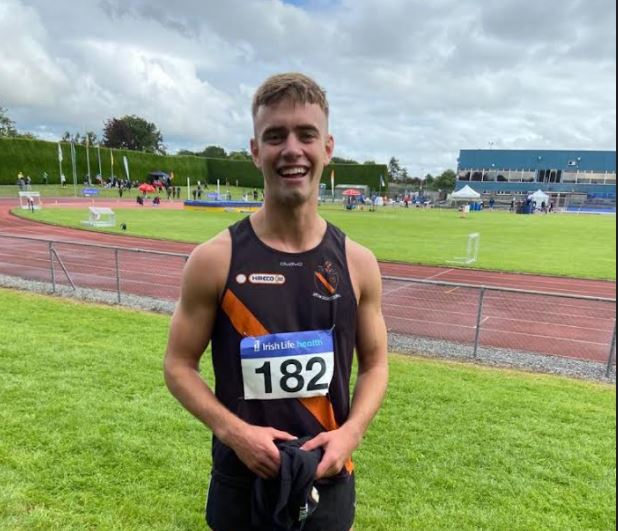 On the track, matters were less straightforward. With our squad marked by the absence of some key
performers from previous title-winning years, due to injury and other factors, our 2021 collective
stepped up and delivered on the day – barring the odd hiccup! Rolus Olusa almost completed a
personal hat-trick of '9 pointers' taking 2nd place in the 110m Hurdles, before Greg Hosseny, a
relative National League veteran at this stage despite his tender years, secured a 2nd place in the
3000m Walk. Daniel Lacey embodied the team ethic and spirit with a battling 5th in the 400m
Hurdles, later followed by a dogged 4th in the 3000m Steeplechase where he stepped up on tired legs
as a late replacement on the day. Chris Sibanda gamely moved up in distance to supply a 5th place in
the 400m while Eoin Pierce placed 3rd in a high quality 800m. The distance men secured more
precious points through Johnny Whan, 2nd place in the 1500m after a nip and tuck battle with
Raheny's Cillian Kirwan, and then followed by Ben Guiden's gutsy 3rd place in the 5000m.
Tokyo Olympian, Marcus Lawler made his National League debut in Clonliffe colours in the sprint
events – which he probably won't forget in a hurry. At least his new team-mates won't let him! The
4 x 100m Relay team (made up of Marcus, with Keith Pike, Leo Morgan and Chris Sibanda) combined
brilliantly to build up a commanding lead, coming into the home straight with Marcus on the anchor
leg. As Marcus began to move further away leaving rival teams in his wake, the baton appeared to
clip off the side of his leg, out of his grasp and into orbit! All he could do was watch in despair as first
place quickly turned into seventh, but he commendably gathered composure to retrieve the baton
and jog in for what translated to 2 points at the time. Better than nowt! Marcus soon made amends
for those relay woes by taking 1st place in both the 100m and 200m later in the afternoon. All that
remained was for our 4 x 400m Relay squad to wrap up proceedings, with the League title already
safely secured. A motley crew made up of Pierce Friel, Mark McDonald, Eoin Pierce and JD Kelly
rounded off with 6th place, leading to an overall team total of 128 points, some 29 points clear of our Dublin
rivals Raheny Shamrocks (2nd) and Dundrum South Dublin (3rd), to retain our title as Irish National
League Champions!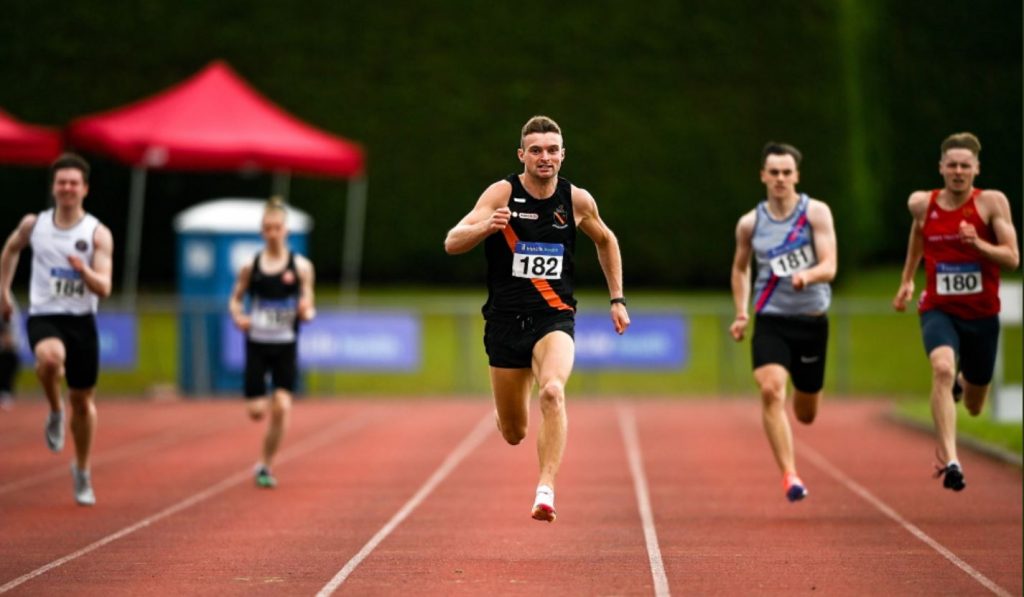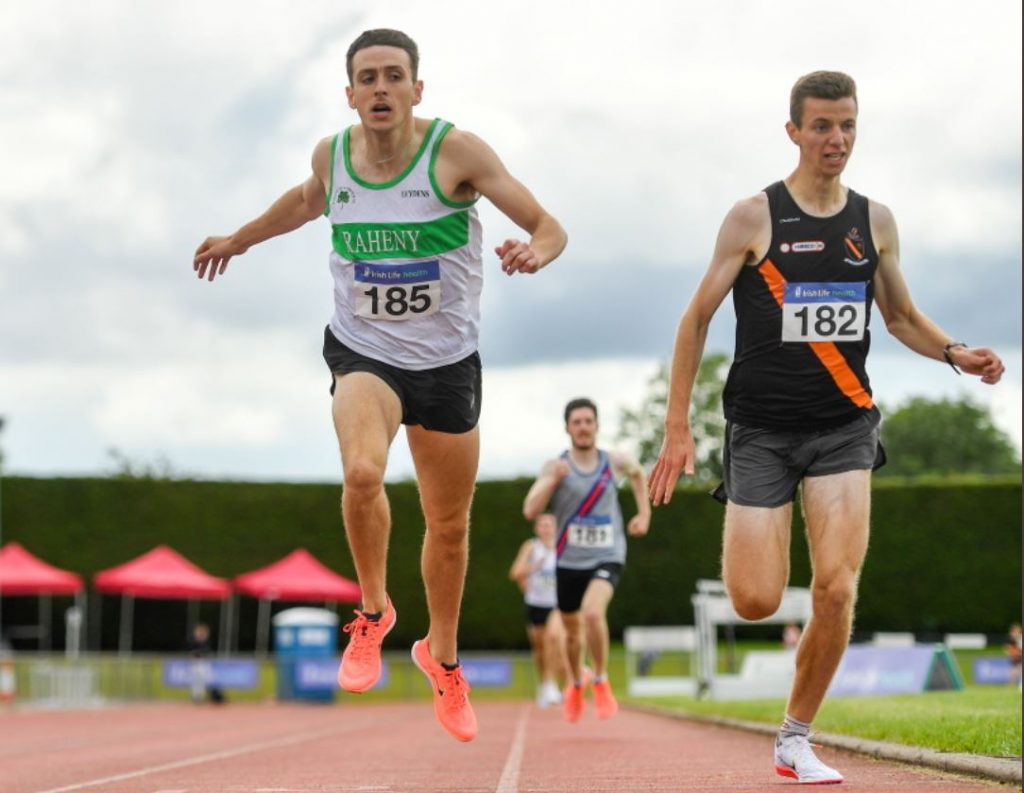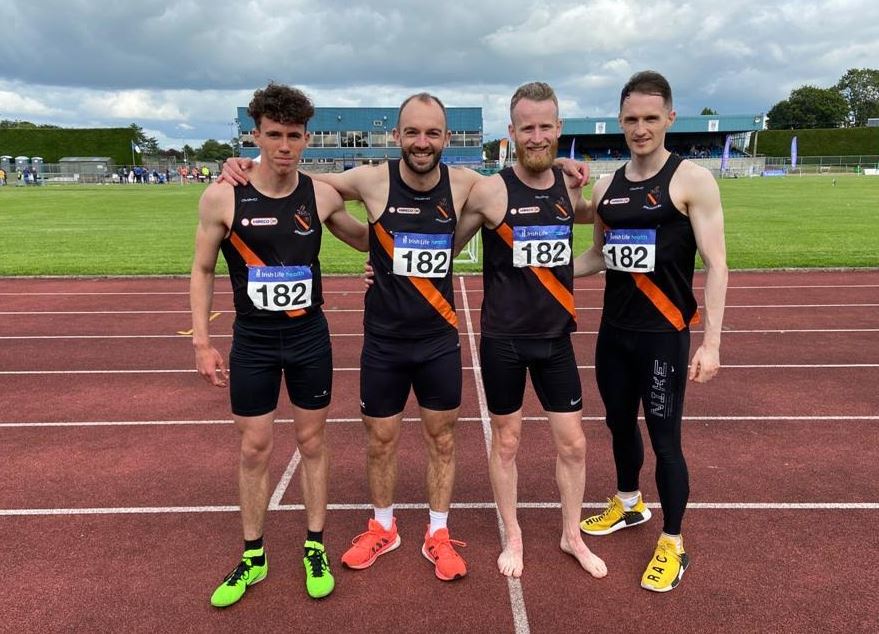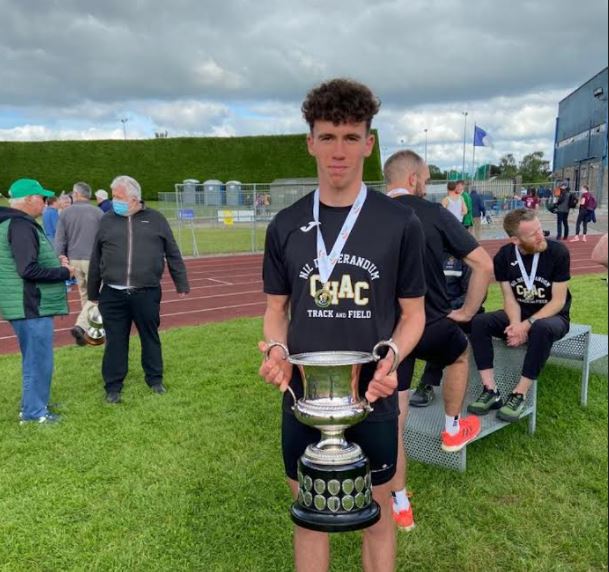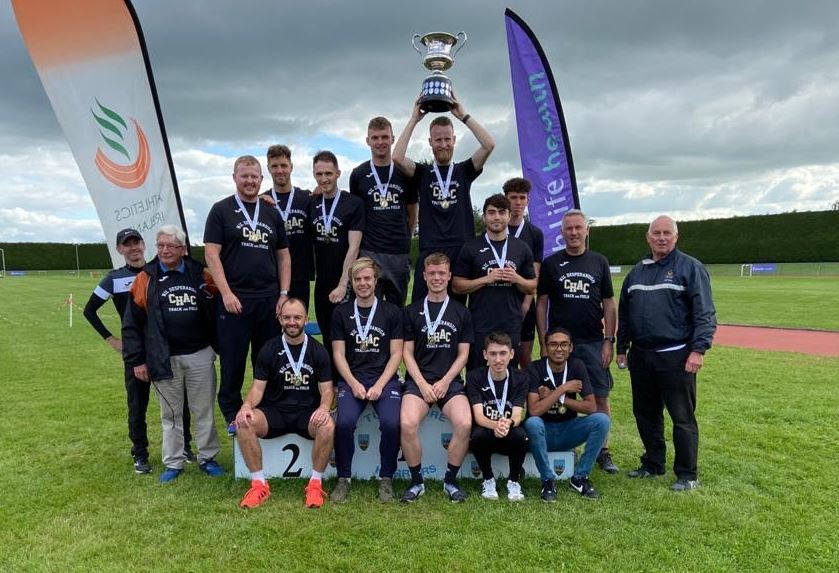 Full results can be found on the Athletics Ireland website:
http://results.athleticsireland.ie/results_15082021/menu.html
On the day, the teams were led and supported by club captain Noel Guiden, with coaches and
officials Stephen Bateson, Gerry Cullen, John Shiels and Declan Power. The Men's team were
presented with their National gold medals and of course the impressive trophy which will reside in
Santry for yet another year. Emotions were high as Captain Noel gathered the team, praising them
for their performance, and dedicating this victory to the late Captain Joe Cooper, the orchestrator of
so many victories in the club's famous history.
Nil Desperandum!