The Dublin juvenile cross country championships, ages U/9 to U/19 take place at Halloween, next Sunday, October 31, hosted by Clonliffe Harriers at Trinity Sports Grounds on Santry Avenue. Parents please note that there are only very limited parking spaces available at the venue and the strong advice is that if you live in the Santry area that you walk to the venue rather than drive.
The Dublin Athletics Board have a requirement that all attending juvenile Dublin Championships, athletes and parents, must complete a Covid 19 declaration form, ideally on the morning of the event but at the earliest on the eve of the event. (Check back here on Friday)
There are big Clonliffe teams entered in the championships numbering almost 90 in total. U/19's will be incorporated into the junior race so the Clonliffe athletes entered at U/19 will also be entered in the junior race and will count as scorers in both.
Teams:
| | |
| --- | --- |
| Aaron Mulcahy | U11 Boys |
| Aidan McDermott | U11 Boys |
| Braxton O'Shea | U11 Boys |
| Joel Thomas | U11 Boys |
| Joshua King | U11 Boys |
| Louis O Riordan | U11 Boys |
| Luke Quinlan | U11 Boys |
| Max Mulcahy | U11 Boys |
| Robert McKenna | U11 Boys |
| Tim Scanlan | U11 Boys |
| Aoife Colgan | U11 Girls |
| Ava Cosgrave | U11 Girls |
| Carragh Nigfhloinn | U11 Girls |
| Eleanor Fanning | U11 Girls |
| Paige Farrell | U11 Girls |
| Teagan Henderman | U11 Girls |
| Fiadh Woods | U11 Girls |
| Conor Tynan | U13 Boys |
| Conor Phelan | U13 Boys |
| Edward Blacque | U13 Boys |
| Mark Egan | U13 Boys |
| Sean Scanlan | U13 Boys |
| Sean Henry | U13 Boys |
| Ashley Coleman | U13 Girls |
| Eliza Morrissey | U13 Girls |
| Ella Woods | U13 Girls |
| Emily Mulvey | U13 Girls |
| Gemma Cullen | U13 Girls |
| Isabel Hickey | U13 Girls |
| Leigh McDermott | U13 Girls |
| Rebecca Baley | U13 Girls |
| Ruby Kelly | U13 Girls |
| Sienna Kelly | U13 Girls |
| Sophie Rattian | U13 Girls |
| Zoe Mulligan | U13 Girls |
| Ava Ahern | U13 Girls |
| Leigh O'Reilly | U13 Girls |
| Matei Ursachi | U15 Boys |
| Noah Rossi | U15 Boys |
| Sean McHugh | U15 boys |
| Cathal O'Neill | U15 Boys |
| Jack McDonnell | U15 Boys |
| Rory Quill | U15 Boys |
| Cathal Hickey | U15 Boys |
| Isaac Moss | U15 Boys |
| Aaron Murray | U15 Boys |
| William Walsh | U15 Boys |
| Jake Kane | U15 Boys |
| Jaydon Carroll | U15 Boys |
| Joar Ryan | U15 Boys |
| Rebecca Walsh | U15 Girls |
| Sarah McDonnell | U15 Girls |
| Alexandra Kelly | U15 Girls |
| Ava Usanova | U15 Girls |
| Cadhla Nigfhloinn | U15 Girls |
| Mya O'Reilly | U15 Girls |
| Tom Breslin | U17 Boys |
| Cillian Keegan | U17 Boys |
| Sam Murray | U17 Boys |
| JD Kelly | U17 boys |
| Jonathan Fitzismons | U17 Boys |
| Sean Cronin | U17 Boys |
| Lorcan Benjacar | U17 boys |
| Devan Morrissey | U17 Boys |
| Leon Brady | U17 Boys |
| Oran McGowan | U17 Boys |
| Sorcha O'Connor | U17 Girls |
| Hazel Kenny | U17 Girls |
| Clodagh NiDhomhnaill | U17 Girls |
| Eabha Guy | U17 Girls |
| Katie O'Neill | U17 Girls |
| Cian Murray | U19 Boys |
| Sean Boyne | U19 Boys |
| Ronan Donohoe | U19 Boys |
| Jack Woods | U19 Boys |
| Andrew Gaffney | U19 Boys |
| Niall Carbery | U19 Boys |
| Eoin Byrne | U19 Boys |
| Darren O'Dwyer | U19 Boys |
| Grace Twomey | U19 Girls |
| Katie Halpin | U19 Girls |
| Aoife Hession | U19 Girls |
| Naoise Cullen | U19 Girls |
| Amy Sheehy | U19 Girls |
| Lara Gallagher | U19 Girls |
| Aimee Daly | U19 Girls |
Timetable: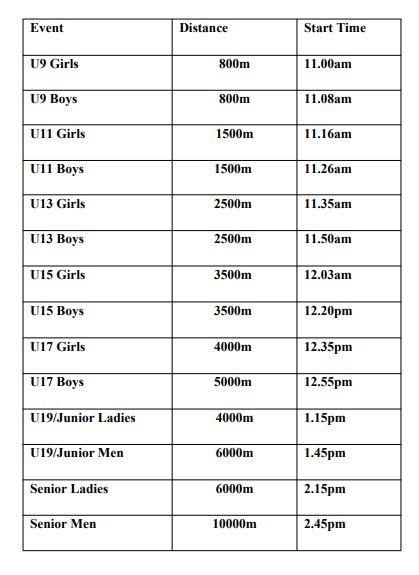 Course Map: