UPDATE September 22nd 2021:
The clubs Covid 19 officer and assistant officers have met to consider the latest easing of restrictions which came into effect on Monday the 20th of September. This is a transition period until the (hopefully) ending of all restrictions on October 22.
As of now there is no longer any need for training pods for outdoor training. This means that coaches can now amalgamate whatever number of pods they had back into that one training group. That training group can now meet unrestricted outdoors for training. For good practice we are continuing with the 'booking' by coaches of athletes in the group at each training session. We would request that coaches continue therefore to book their athletes in using the form on the Covid 19 page of this website 24 hours in advance of each session. This hopefully will only continue for one more month.
Although the guidelines issued do allow indoor training, there is an issue as regards fully vaccinated and non-vaccinated, there is also an issue as regards social distancing required indoors and time limits in dressing rooms. To implement these requirements at this time are too onerous on the Covid 19 officers and therefore the clubhouse and dressing rooms will continue to remain closed until October 22.
At this time it is vitally important that we all continue to observe the practices which we have implemented over these past 18 months, in particular:
Do not come training if you have any Covid or flu like symptoms.
Please observe coughing and sneezing etiquette.
Please refrain entirely from spitting.
Wash your hands before you leave home to come training, bring a hand sanitiser with you, do not press any pedestrian crossing buttons with your hands (that's what elbows are for!) and if you are stretching do not use a railings or park bench or similar to support you while you stretch.
Do not share drinks, be absolutely careful that your drink bottle does not touch against another athletes drink bottle, do not handle another athletes drink bottle, it is vitally important that cross contamination is avoided.
COVID 19, MOST IMPORTANT:
We encourage all members of Clonliffe Harriers to get Vaccinated.
If you have any symptoms of Covid-19 or flu like symptoms do not come to train, self isolate and contact your GP. This applies even if you are fully vaccinated.
If you have had a Covid 19 test, you must self isolate and not come training until there is a negative result of such test.
If you have tested positive for Covid 19 you must follow all HSE advise and self isolate (do not come training).
If a member of your household or a close contact is waiting for a test result you must limit your movements, stay home and obviously not come training.
If a member of your household or a close contact tests positive you must limit your movements, stay home, not come training. You must attend for a test/tests as advised by the HSE and follow all directions of the HSE, limited your movements for the time duration as directed by the HSE.
At this time the club's indoor facilities remain closed.
All athletes must renew their club membership and pay their subs for 2021 before returning to group training.
Please continue to Book sessions:
Bookings must be made for all sessions (track, Santry Park, Trinity or any other venue when their is group training) by the group coach. PLEASE USE THE NEW BOOKING FORM on the Covid 19 page.
Bookings 24 hours. Post session please e mail with any no shows.
Clonliffe training in Morton Stadium:
Allocation of time slots to groups as follows:
Tuesdays and Thursdays
7.00 – 8.00pm Outside Hammer cage for Throws.
7.00- 8.00pm Javelin on infield. (extreme caution)
7.00-7.30pm; Philip O'Doherty/Maurice Ahern/Eugene Coppinger (lanes 1-3) for reps only, all recovery on the infield.
7.00- 9.00pm: Senior.Junior Sprints groups (lanes 4 – 6)
7.00 – 8.30pm: Juvenile groups (lanes 7, 8)
7.30-8.00pm: Stephen Bateson/Peter McDermott/Pamela Cooper (lanes 1-3) for reps only, all recovery on infield.
8.00-8.30pm: Mick Fogarty/Noel Guiden (lanes 1-3) for reps only, all recovery on infield
8.30-9.00pm; Open for club members, not part of a training group, limited to 15 athletes.
Sundays (9.30 to 11.30):
9.30 – 11.30 Throws (Outside cage)
9.30 – 11.30 Javelin infield (Extreme caution at all times)
9.30 – 10.00 Open
10.00 – 11.00 Senior sprints groups (lanes 4 – 6)
10.00 to 11.00 Juvenile group (lanes 1-3 and 7, 8)
11.00 – 11.30 Middles distance groups (lanes 1 – 3)
Clonliffe training in Trinity (Autumn/Winter):
Tuesday only from 7.00pm to 8.15pm only.
Dressing rooms and toilets are not available.
Please all running must be off all football pitches, this includes warm up, strides, sessions and stretching, in short we must stay off the pitches!
Clonliffe training in Santry Park:
Please all be mindful of other park users particularly when doing sessions on the paths.
Please be courteous to fellow park users.
Please follow all health advise as above.
Contact us section:
Clonliffe Harriers Athletics Club, Morton Stadium, Swords Road, Santry, Dublin 9
Location Map: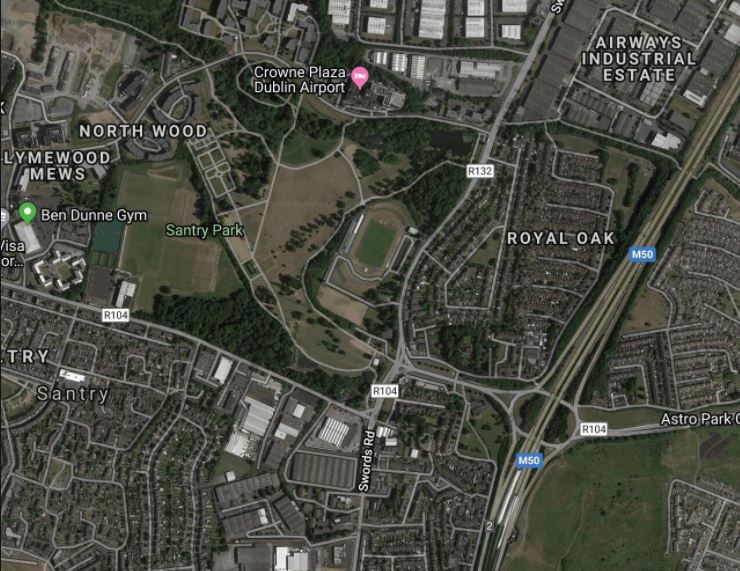 Contact Us:
To contact us in respect of any matter (Non Covid-19) please e mail:
General: clonliffeharriersac@gmail.com
Our Contact Details:
| Title | Name | Contact Number | E-Mail Address |
| --- | --- | --- | --- |
| Club Captain | Noel Guiden | 087 9599888 | nguiden.clonliffeharriersac@gmail.com |
| Ladies Captain | Louise Caraher | 086 0768431 | louise.caraher@hotmail.com |
| Juvenile Captain | Gladys Cooper | 087 9852836 | gladyscooper999@gmail.com |
| Club President | Paddy Marley | 087 2866105 | paddy-marley@hotmail.com |
| Club Secretary | Stephen Bateson | 087 2544437 | sbateson.clonliffeharriersac@gmail.com |
| Club Treasurer | Brian McDonald | 086 8582791 | treasurer.clonliffeharriersac@gmail.com |