Sean Doran was the class of the field in tonight's club 10,000 Championships for the Bonass Trophy as he cantered to a third club 10,000 championship in succession in a time of 32.04. Although the field was lighter then in other club championship events this season, with many athletes being unavailable due to a mixture of marathons coming up or a recent restart after an end of season break, it was nonetheless a most enjoyable race. It was a perfect night for distance running held under the floodlights of Morton Stadium with little breeze and comfortable temperatures.
As expected Sean Doran hit the front from the off and quickly opened the gap on the chasing battling dual between Tom Sherlock and Declan Power. As the gruelling 25 laps were reeled off the gap extended to a significant 80 seconds at the finish. In the battle for 2nd, Declan Power prevailed having put in a mid-race spurt to finish in a time of 33.24 with Tom Sherlock recording 34.51. Although Clodagh Moriarty was the only female athlete to toe the line she put in a very solid performance covering the distance in 47.18. Post race, in accordance with Covid 19 protocol the presentation was made by the sponsor Pat Bonass of the Bonass Trophy to Sean and then the Bonass Cup to Clodagh, while club president Paddy Marley presented prizes to the first three men in the club championship and to Clodagh Moriarty as the women's champion.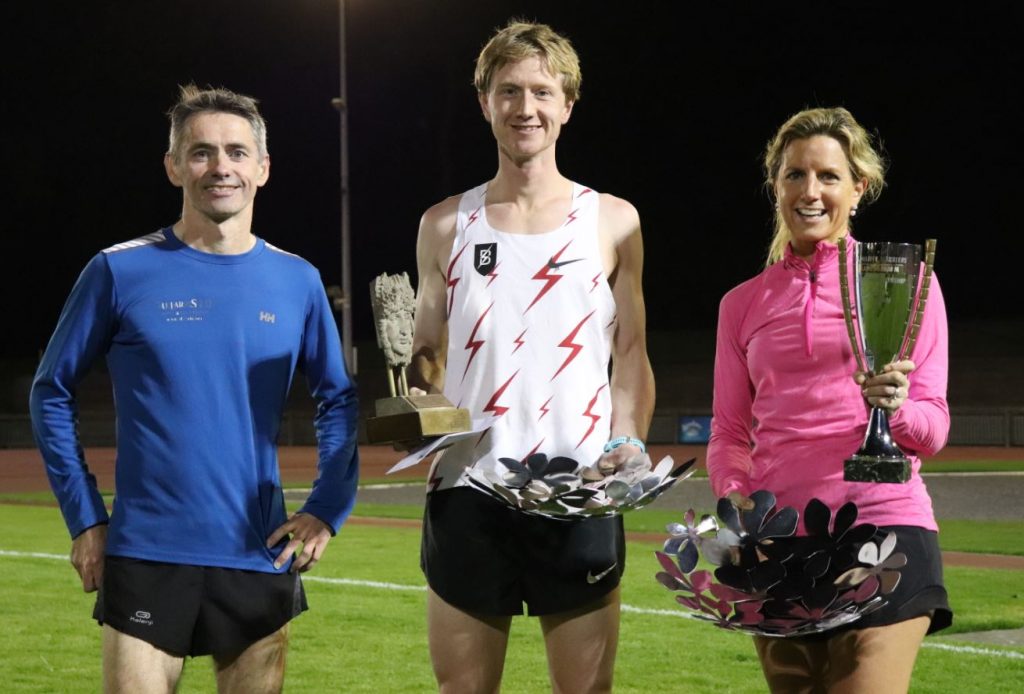 Results:
1 Sean Doran 32.04
2 Declan Power 33.24
3 Tom Sherlock 34.51
4 Dermot Faughnan 37.30
5 James Dunne 37.40
6 Colm Hickey 40.29
7 Tommy Griffin 41.13
8 Kevin Dowling 41.36
9 Alan Worrall 43.09
10 Declan Murray 46.34
11 Clodagh Moriarty 47.18
12 Pat Devitt 48.51
13 Colm Doran 54.05
To see more photos: https://flic.kr/s/aHsmWPs4sR
Next up it's the Club 10 Mile Championship for the Ahern Cup in Malahide on October 9th.