Eugenia Bateson Reports from Abbotstown: Sunday 17th October 2021 saw the very long-awaited return to Cross Country with the Dublin Even Age Championships taking place in Abbottstown.   The course was in immaculate condition as we build towards Ireland hosting the European Cross-Country Championships in December.  Europe's finest athletes will take to the start line, today however was a day for the Juveniles to put this course to the test.
The U12 Girls opened the day for Clonliffe with Kieran and Glady's fine athletes taking on this course for the first time in what looks like promising athletic careers ahead.  This course is not for the faint hearted and these kids gave it their all.  U12 Boys followed and pushed through with grit and determination.  The standard had been set for Clonliffe for the day with brave performances by all.  2000m on this tough course proved a great experience for these kids, many on their first time out.  
Ann's U14 Girls were up next followed by her U14's boys. Again, in this group, most were debutants taking on 2x1500m laps. Confidence grew as they made their way through the first lap with them working strong in their teams finishing well in their race. Gladys could not have been prouder to be Juvenile Captain to these great groups.
Gerry Carr's U16 Girls took on the 4K. Hazel Kenny and Rebecca Walsh worked well and strong in the first lap with Sorcha O'Connor and Sarah McDonnell following close behind with Kate Faherty finding her steady rhythm. The ever-determined Hazel pushed on in this is very competitive race but the lead pack had managed to pull away early on. Rebecca continued to work hard and Sorcha fought throughout the race to pick up a few points along the way. While the 4K distance proved difficult on this particular course for the girls today, they worked hard and followed Gerry's instructions throughout. Kate Faherty had a very impressive 150m sprint to the finish picking up another place but unfortunately today was not their day with the team finishing 4th. Unofficial positions, Hazel 21st, Rebecca 24th, Sorcha 25th, Sarah 27th and Kate 30th. To be Confirmed.
The most impressive result of the day in terms of individual and team came from Mick's unstoppable U16 Boys.  Also running 4k, Sean Cronin stuck in with the leading pack from the gun and did what Sean does best – brings the lads through a strong pace and when he's ready – takes off leaving 2nd and 3rd to fight for the colour of their medal!!!  Lorcan Benjacar  continues to improve, looking very comfortable in the next group.  Matei Ursachi followed but seem to have been affected by a mid-race stitch.  Oran McGowan looked like he enjoyed every step finishing in 10th position.  With Sean storming home to Claim the U16 Dublin Championship Title in impressive style, Lorcan in 5th, Matei in 8th and Oran in 10th, Clonliffe Harriers secured the team Gold.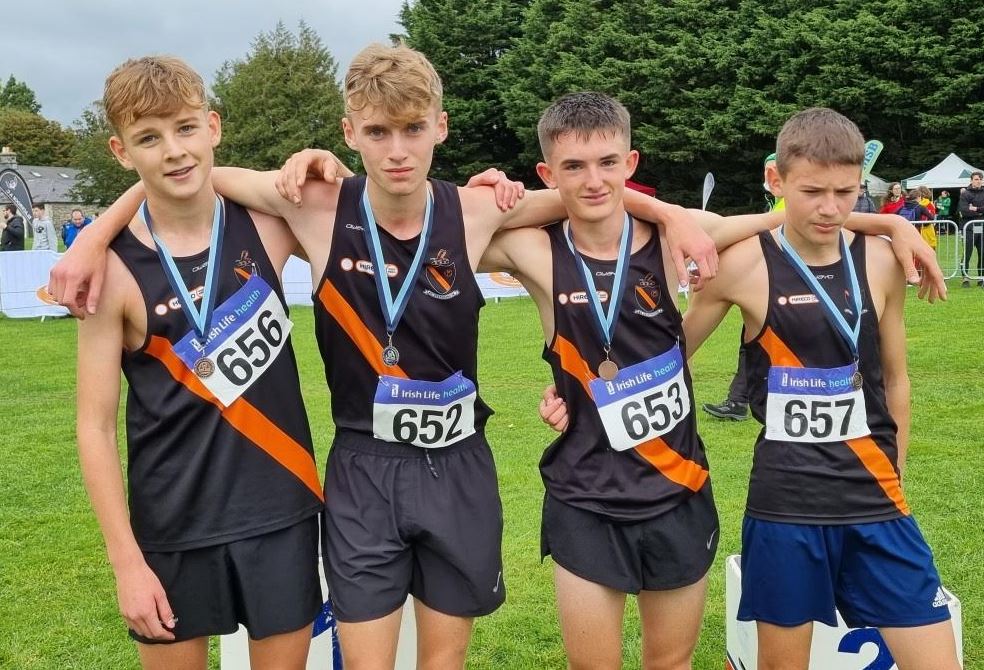 U18 girls unfortunately only had 3 athletes available to run today meaning that they could not compete as a team.  Naoise Cullen ran well and showed that she is well on the way to coming back to form.  She was most unfortunate to finish in 13th but it was not for the want of giving it her everything.  Aimee Daly and Lara Gallagher worked well together throughout taking 23rd and 24th positions.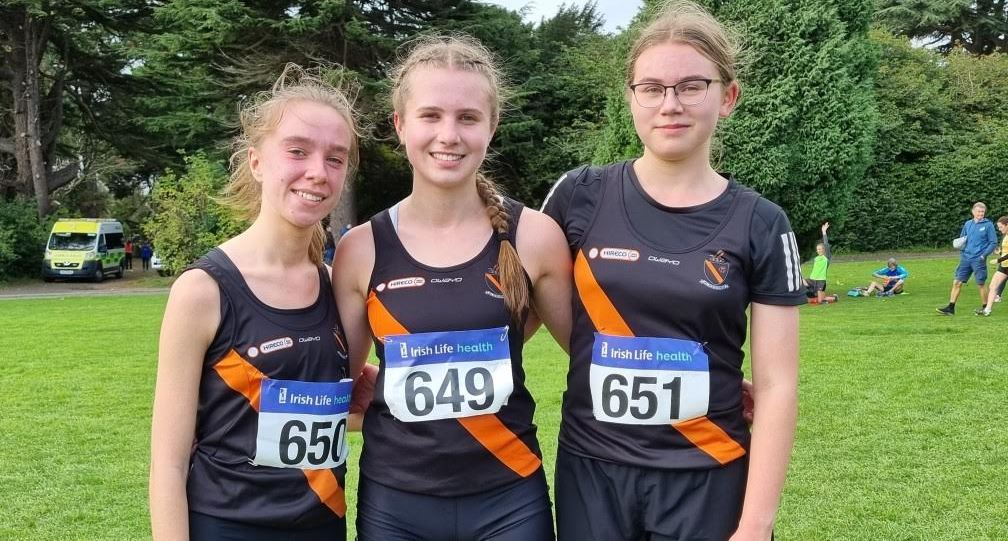 U18 Boys was Mick's second team of the day.  Eight of the lads took to the start line.  Sean Boyne positioned himself early on and ran a confident and steady race from start to finish taking 5th position. Ronan Donohoe looked very strong taking 8th.  Sam Murry pushed hard throughout and was rewarded with a 10th place finish.  JD ran 3 strong laps but as he approached the final lap stopped feeling unwell.  However, mindful of his team and with the U16 boys giving him encouragement from the side line he managed to finish in 15th.  Cillian Keegan, Jonny Fitzsimons, Andrew Gaffney and Jack Woods backed up the team well.  The team were awarded a bronze.
Great to see large numbers of Juveniles out competing today, Uneven Age Championships will take place on Sunday 31st October. Venue to be confirmed with even higher numbers expected to take part from the black and amber. Nil Desperandum.