Mick Kearney: A total of six races have been completed in this year's CHGP series. The latest event was the 800 meters which was held in a downpour last Thursday 2nd June. There was a large attendance present for the presentation of prizes  for previous races last Thursday night. The  winners of the 2021 CHGP Series were also announced on the night.  
800m Thursday 2 June
Many thanks to all who competed and officiated last Thursday night under very difficult conditions. Congratulations to Ciara O Regan who was in first place, Declan Grant in second and Eamonn O Neill in third. The full result is outlined below. The 800m event is kindly sponsored by Richard Barr.
Next Race – Night of Miles
Night of Miles in Morton Stadium on Tuesday 14 June. The presentation for this event and the 800m will be made on Thursday 23 June in the Clonliffe Club House after the 3000m. Light refreshments will be served on the night.
Winners of 2021 CHGP Series announced
The CHGP 2021 Series was held in conjunction with the Club Championships and included two very well attended races in Malahide Castle namely the 5 mile and the 2.5 mile.
The races were held under very difficult circumstances and a total of 97 Clonliffe athletes competed in one or more of the races. Handicaps were calculated for each athlete that competed in each event.
There was no guarantee that all the events would take place given the raging pandemic. However the CHGP Committee decided if at least 10 races were held that it would consider that a CHGP Series had taken place. It transpired that this was the case.
The GP Committee were waiting for an opportune time to announce the winners and it was felt that such a time would be when the 2022 Series was well under way. So last Thursday night the winners were finally announced before a capacity audience in the Clonliffe Club House. Caroline Tuite laid on very welcome refreshments for the rain soaked athletes, officials, coaches and spectators.
The first three athletes were :
First Place – Declan Grant (216 points),
Second Place – Pat Devitt (180 points)
Third Place – Ray Dunne (175 points).
The GP Committee would like thank all those who competed and indeed the officials who made the holding of the 2021 events possible during a pandemic.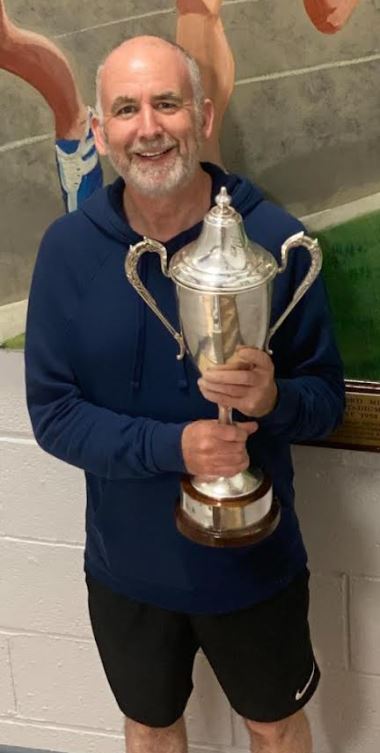 Points Table
The CHGP Committee will issue a further cumulative Points Table later this month when all the track races are completed. Some minor amendments need to be made to the initial Table issued recently to take account of feedback from athletes.
Result of the 800m – Thursday 2 June 2022
| | | | | |
| --- | --- | --- | --- | --- |
| Place | Bib No | First Name | Surname | Points |
| 1 | 40 | Ciara | O'Regan | 40 |
| 2 | 24 | Declan | Grant | 39 |
| 3 | 38 | Eamonn | O'Neill | 38 |
| 4 | 73 | Philip | Richards | 37 |
| 5 | 28 | Marie | Howard | 36 |
| 6 | 23 | Joe | Fowler | 35 |
| 7 | 15 | Siobhan | Devaney | 34 |
| 8 | 78 | Diarmuid | Doyle | 33 |
| 9 | 64 | Peter | Bissett | 32 |
| 10 | 42 | Shane | Rooney | 31 |
| 11 | 3 | Aisling | Andrews | 30 |
| 12 | 4 | Steve | Barnes | 29 |
| 13 | 60 | Eamonn | Dunne | 28 |
| 14 | 14 | Orla | Deighan | 27 |
| 15 | 6 | Mick | Bermingham | 26 |
| 16 | 12 | Ciara | Daly | 25 |
| 17 | 46 | Yvonne | McDonagh | 24 |
| 18 | 20 | Ray | Dunne | 23 |
| 19 | 31 | Philip | Matthews | 22 |
| 20 | 47 | Karen | McAffee | 21 |
| 21 | 33 | Rachel | McFadden | 20 |
| 22 | 21 | Emma | Dunne | 19 |
| 23 | 19 | Kevin | Dowling | 18 |
| 24 | 27 | Dave | Hanley | 17 |
| 25 | 39 | David | O'Sullivan | 16 |
| 26 | 16 | Colm | Doran | 15 |
| 27 | 1 | Aimee | Ahern | 14 |
| 28 | 76 | Deirdre | Fitzsimons | 13 |