This morning we have a look back at the 2010 European clubs cross country held in Bilbao, Spain on 7 February which featured both the Clonliffe senior and junior men's teams. Both teams qualified courtesy of winning the 2009 National's held on home territory in Santry that February and thus a substantial party travelled for the event, two full teams, coaches and barstool advisers. Santry had played host to the European cross-country Championships only two months previously and the European clubs would see old rivalries renewed. Mark Kenneally had ran a tremendous race in Santry in the Irish vest that December and would run an equally tremendous race in Bilbao that February weekend.
The course for the Euro clubs was in a small park in the city, somehow a 1900 m loop had been laid out and as a consequence it featured many twists and turns and hairpin bends, not exactly ideal for a man of Kenneally's build. The underfoot conditions however clearly suited the Clonliffe man. The Senior Men's race featured the Dublin European Cross Country Champion Alemayehu Bezabeth Desta who was the class of the field successfully defending his title and bringing along his team-mate Ayad Lamdassem, these two crossed the line almost hand in hand. Kenneally was in excellent form running a classy race finishing very strongly in sixth position some 30 seconds behind the European champion.
The rest of the Clonliffe men put in battling performances: Sergiu Ciobanu in his first European race for Clonliffe was 37th, Brian McMahon 60th and cian McLoughlin 66th made up the scoring four, backed up by Lorcan Cronin and Gary O'Hanlon as the team finished ninth overall.
The junior men's team putting in a magnificent performance greatly exceeding expectations. That team was led home in 15th by Jayme Rossiter and then some superb packing with Mark McKenzie 30th, Eric McCann 34th, Jordan Logue 37th, Conor McGuinness 38th and Ian Guiden 39th saw the team take 6th place and only 10 points off bronze.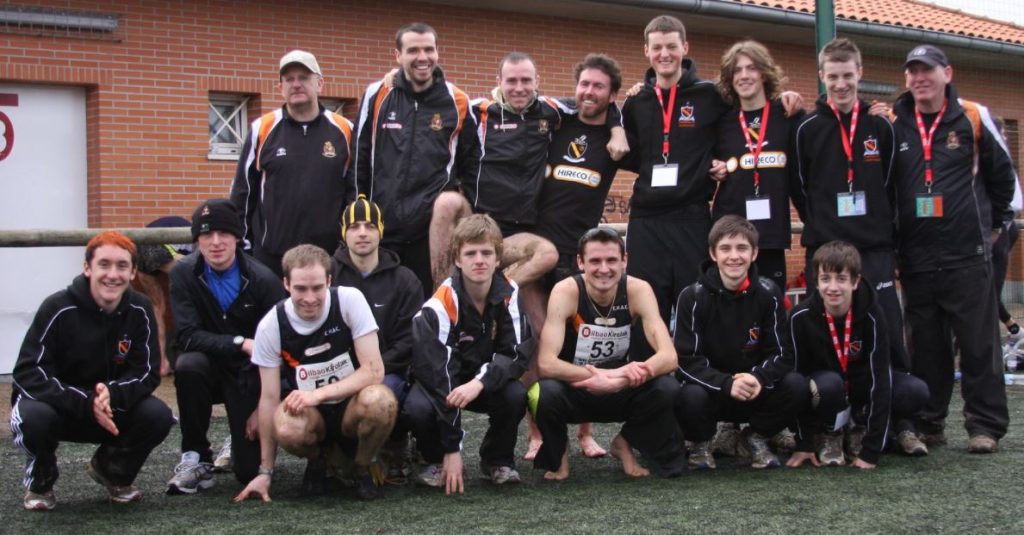 The 'après ski' that Sunday night saw the Clonliffe contingent support Mark Kenneally's Atletico Bilbao at their home match where we almost witnessed Graham Mahon have his head knocked off by a wayward shot on goal, the ball missing Graham by cms. To calm the nerves post match we retired to a local hostelry, later that evening Brian MacDonald was conned by a certain member of the junior team into releasing their passports from his possession. No further comment on the aftermath required!