(Continued from Monday the 15th) The Trustees were under serious continued pressure as 1964 began. Al Guy had ideas and plans on fundraising. Golden plate dinners and house to house collections and so Billy called a press conference to announce that the stadium was in real and urgent trouble. Dublin Corporation were not interested, as it was outside their area and so he announced a house to house collection beginning immediately. I can well remember Friday nights with small groups of two lads and two girls in Beaumont, Iona and Cabra begging to save Santry stadium. How did we ever race on Saturdays, perhaps in hindsight, just what might have been during those tough times.
Sometime around early 1964 a bomb at Leopardstown racecourse caused damage and soon after with 400 Garda, some armed, the international cross-country championship went ahead. England won and what a team they brought. All their distance stars Cooke, Hill, North, Tullock, Batty and Heatley. Three Donore Men were in Ireland's 1st four with Clonliffe's Paddy Killeen also on the team. On April 12th we had the first running of the club 10 mile championship from Murtagh's pub on the North Road to the stadium (no problem in those days).
Thanks to individual race sponsorship Clonliffe Harriers had two international meetings in July/August. In August at the Ormeau Park, Clonliffe Harriers won the National Relays and the full series 4 x (100, 220, 440, 880 & 1 mile). With a great winning performance in the 4 x 100 with Tom Quinn, Dan Kennedy, Harry Sydner and Garry Dempsey. I ran the 1st leg of the mile in which we were 3rd . By November, Drogheda Utd FC were training at Santry and their Physio was Sammy Pearson from the 1914 Clonliffe XC team.
It should be noted that a cinder track was not available for training from November – 2nd half of April any year and so during the 1960's relays were very popular and Clonlifffe as well as our aforementioned Douglas Wilson relay which was run on the Griffith Avenue circuit of (4 x 4.8 miles) we also had Donore's Eddie Hogan Cup 40 miles 8 Man relay and the same club's 12 mile relay on the Polo grounds. In the North of Ireland we ran in the Liznagarvey 5 x 2 miles in the Wallace Park and the Ben Madigan relay. 1965 – In addition to the cross country races of which we are familiar, the Horan, Irwin and O'Connor Cups, we also raced for the 5 mile Galway Shield and the 7 miles Farren Cup. In that season for the first time we decided to compete in the 61 mile relay around the Lagan Valley from the Albert clock in Belfast and back to finish in Ormeau Park. We also supported the Ballyclare 10 and Duncairn 15, both not for the only time.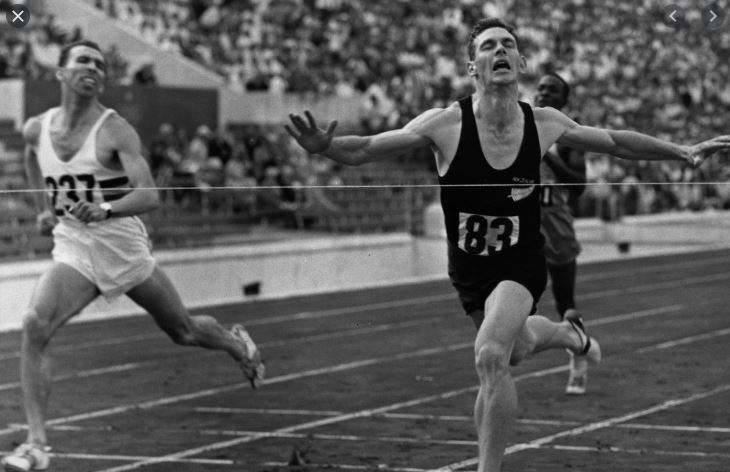 In July, big time Athletics returned with 8,000 people at Santry for the Peter Snell/Alan Simpson mile clash. Around the same time a Lark Hill Church supper under cover in a marquee helped with further income. It was the view of many members that the Balbriggan – Dublin GPO 20 miles with only 7 finishers was doing nothing for the event as runners were a mile apart as they ran through Drumcondra. It may have been on in the war years on deserted city roads but now it needed a change. The proposal to start around Mosney and finish at the Stadium led to a lively debate and I remember using a phrase I read somewhere that "tradition should be enriched, not fossilised", the motion was carried.
We heard from the Donore people of glowing reports about the mammoth Waterloo Road race 7 miles with a 1000 runners (huge in those days). So in 1965 for the 1st of three times Clonliffe Harriers also entered for this Crosby Liverpool race. Travelling over by boat on Friday night and returning on Saturday night/Sunday. Donore the all conquering Irish champions going unbeaten for a decade in home championships were a huge attraction in the 1960's. Competing many times elsewhere in England around that time their panel included 5 Olympians and a multitude of Internationals. No wonder Clonliffe Harriers went more than 5 years without XC Gold but not out of the Silvers as almost every year we achieved championship Silver in Senior or Intermediate (called Junior). 1966 – Despite tough times the members found enough cash to support the 80th anniversary dinner dance in the Gresham Hotel. For some of us it was time to put up or shut up and support the Clonliffe 20 finishing at the stadium. A much-increased entry and a baptism of long distance running for myself and others. We had the 1st running of the Walker Cup in July.
The Hell Drivers using both the running track and the banked cycling track brought large crowds to the stadium. An International meeting with Gamoudi and for the first time Kip Keino in the mile (3:57.4) was well supported. Was there a football match also? My memory suggests so. The year came to an end with a novelty event or so I would describe the Wooden Cup race. Sponsored by St. Francis AC / Boxing Club it was a run in the dark 4.5 miles through the Phoenix Park supported by Car lights. A large Clonliffe Harriers entry as Joe Foley a former Clonliffe Man was in St. Francis Club.
After many years of flag days and other fundraising efforts it was time for something new. So Billy welcomed a week long Passion Play under canvass covers. With the stadium closed to runners, many of us used Ierne Sports club of which I was a member to train from. In April I attended the final meeting of the A.A.U. and so after more than 30 years this Athletic split was mended with the forming of B.L.E. I ran one of my best races ever to finish 4th in the 1st ever B.L.E. championship race. Run in a constant down pour the 10 mile track race was won by Matt Murphy from Cork.
The Government at last found a small amount of money for sport, more for school/college facilities then clubs or the National Association. Under the heading of the All-Ireland school's championship, a grant was obtained by Clonliffe Harriers to enable an eight lane to be added to our cinder track. The benefits were obvious for all championships, but the case was made for colleges. Meanwhile the first Business House cross country race was run at Santry; it was to be the last crosscountry race of any kind for 1967 until the very end of February 1968. The B.L.E. National Committee and the Dublin County Board banned all XC on grass because of a major outbreak of Foot & Mouth in Britain. And so the then famed Quinlan Cup XC race in Tullamore was changed to a Road Race and recorded the then huge number of finishers for a race in Ireland with 410 crossing the line.
As recorded earlier Relay Races in the Cinder Track era were popular and so now a choice was added to the previously mentioned relays, Inchicore AC (5 x 2 miles), Phoenix Harriers (5 x 1 mile) and Raheny (4 x 3 mile). Billy told a Committee meeting that he had a plan to control the legal pressure relative to the stadium debt. And so the ferocious pressure of previous years was put on hold and our members could relax and add trips all over the country to their training. This they did and I can remember in those early days of B.L.E. running in Cork, Limerick, Tipperary, Kilkenny, Kildare, Offaly, Laois, Carlow, Louth and the National Marathon in Galway and Clonliffe Harriers were now back in a Championship Gold position team wise .
Soon a talented group of Athletes arrived from Donegal but sadly at the very end of the decade Billy Morton died suddenly. Billy had led us in our ambitions, he led us in our fundraising/begging and now our stadium bears his name. I can see them all or most in my minds eye, the Men and Boys and Girls of the 1960's in Clonliffe Harriers. Those that I trained with, travelled with and raced with. Those that I attended at the Bears club with. All the Parties, Barbeques, Dances, Croke Park and worked on Committee's with.
I would love to attempt to name them all. But I know the hurt of being left out. Therefore, I will not attempt to name them in writing less I miss even one.
Perhaps on another "Monday Memories" the hidden history of the decades thereafter 70's, 80's, 90's and into the 21st century will be unfolded by someone.
Nil Desperandum