Stephen Bateson reports: On a changeable day with all weather conditions making an appearance the National Senior Track & Field Championship got underway.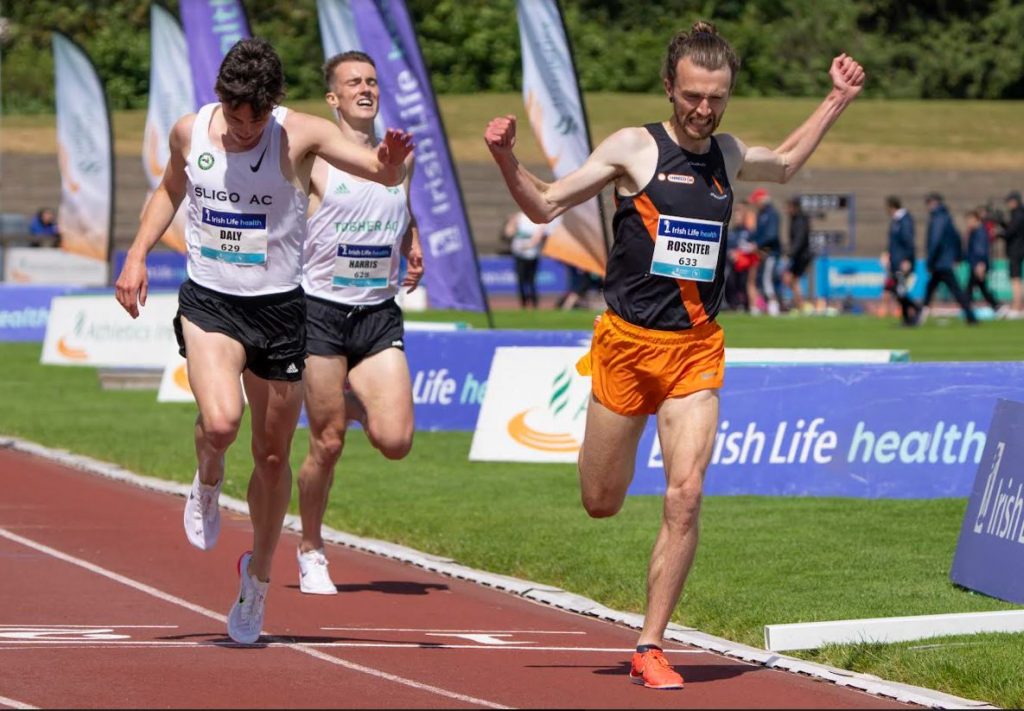 The highlight of the day came when Jayme Rossiter recaptured the Men's 3k Steeplechase. Jayme ran a clever and tactical race sitting to the back of the main group in the opening laps. As the main group whittled down to 4 on the final lap he took his opportunity to make his move and with 4 barriers to jump, he moved up on the shoulder of the leaders. As he approached the Clonliffe Harriers Clubhouse with 200m to go he went to the lead and hurdled the water jump to land in the lead. Despite a challenge in the home straight Jayme held on to win his second National Title.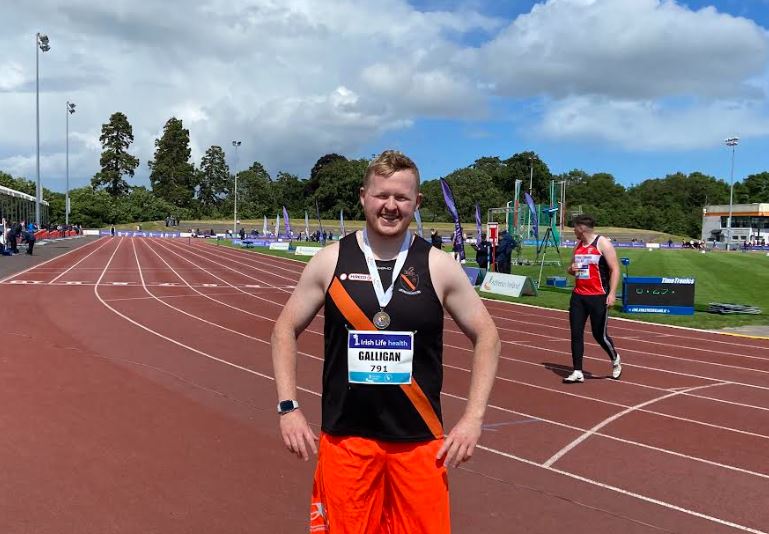 In  the Field events Simon Galligan pronounced himself satisfied with a bronze in the Men's Hammer with a throw of 59:59m recorded on his 3rd throw.  In the 110m Hurdles Final Rolus Oulsa finished in 5th position in 18:05, having pulled up with some discomfort, however he returned to take part in the Long jump finishing 12th. Also in the Long Jump was Keith Marks who finished 6th with a jump of 7:04m.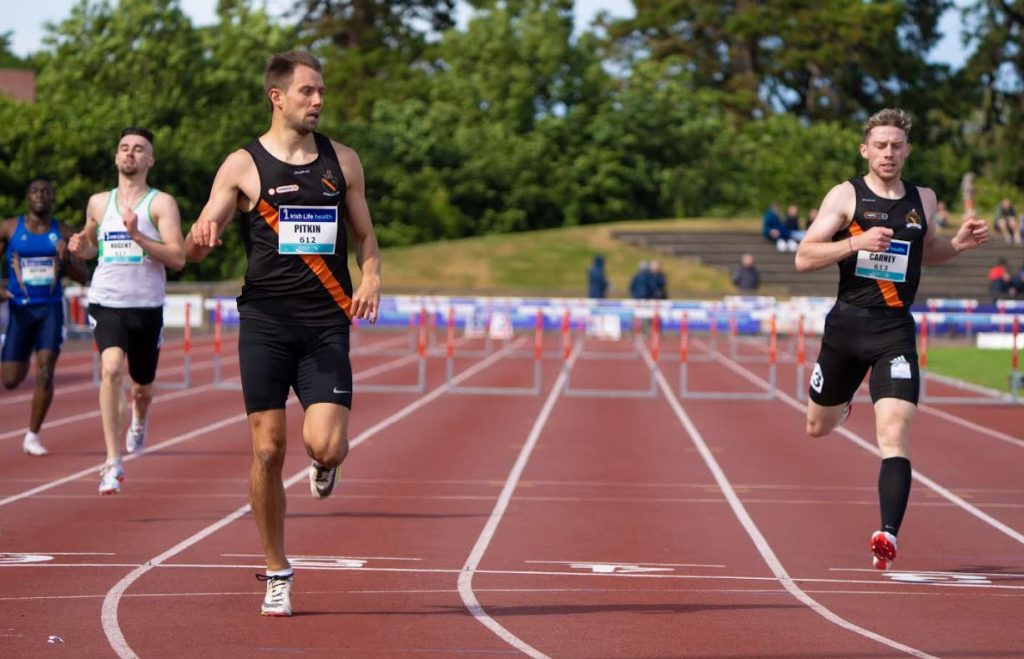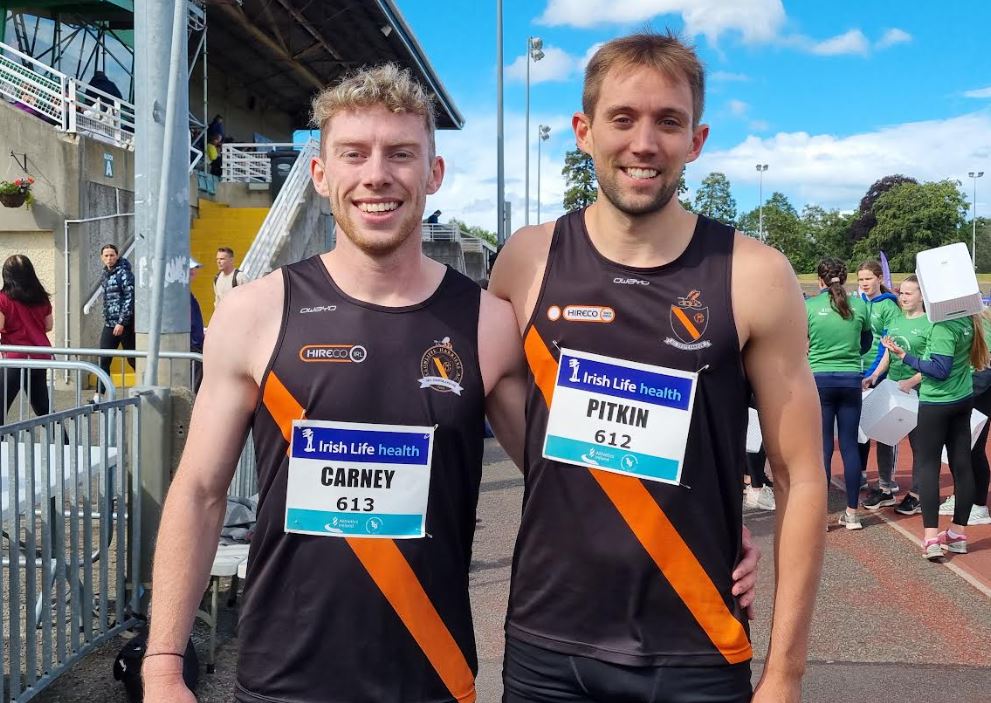 Big Q's in the 400m Hurdles for both Thomas Pitkin (53:33) 2nd and newcomer Niall Carney (54:04) in 3rd to qualify for tomorrow's final. The Final takes place 18:50 to-morrow evening.
Olympian Marcus Lawler qualified in first place with a big Q from Heat 3of the men's 400m in a time of 48:50, Marcus blasted out of the blocks and looked in control all the way to the finish. In Heat 5 Francois Croller failed to progress from Heat 3 in 49:92. To-morrows final takes place 19:25.
Cathal Doyle qualified comfortably in 3:58:57 from the second heat of the Men's 1500m and Greta Streimyte our sole female qualifier, as she qualified in 4:32:62 in the ladies 1500m. The Women's and Men's finals are scheduled for 20:10 and 20:20 tomorrow evening.
There were many club members supporting today and we would encourage as many members as possible to attend tomorrow to support our athletes.