Stephen Bateson reports: What a day in Morton Stadium, it started with a gold and finished with gold with a number of silver and bronze in the middle! What a championships for Clonliffe as 8 National medals are won.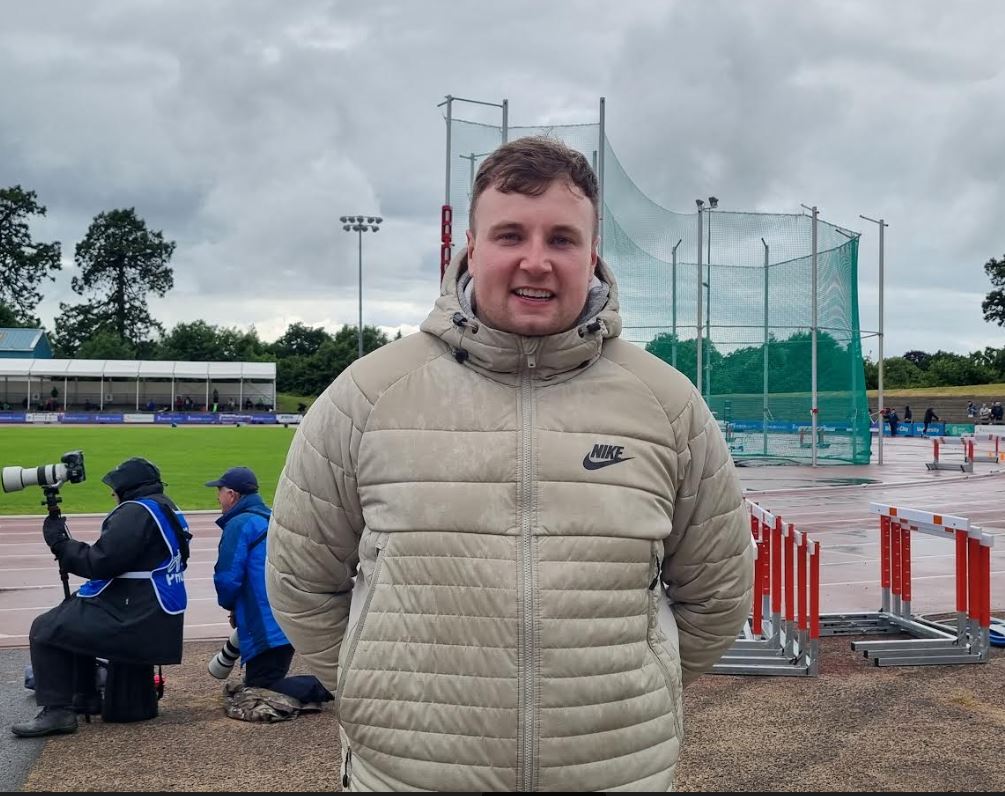 The 1st gold came courtesy of Eoin Sheridan in the Discuss who won handsomely with a throw of 53:80, which is a National Lead and had over 5 m to spare over second place. The 2nd gold came from Cathal Doyle who bettered his 2nd place of 12 months ago. This was a race that Cathal really wanted to win and yet he timed his execution with patience and to perfection. The race was slow, relatively speaking for a National Championship, but when Mitchel Byrne from Rathfarnham made a move with 500 m to break up the pack,  Cathal positioned himself perfectly to a make his move and with 300m to go Cathal moved to the front shoulder to shoulder with Paul Robinson, but there was nobody going to pass Cathal in the final 100m and he held on to win his 1st National Senior Title with a final lap of 53 seconds. A slap on the leg in triumph reminded him that he had a broken bone in his hand, but the victory was his. For the record the finishing time was 3:59:36.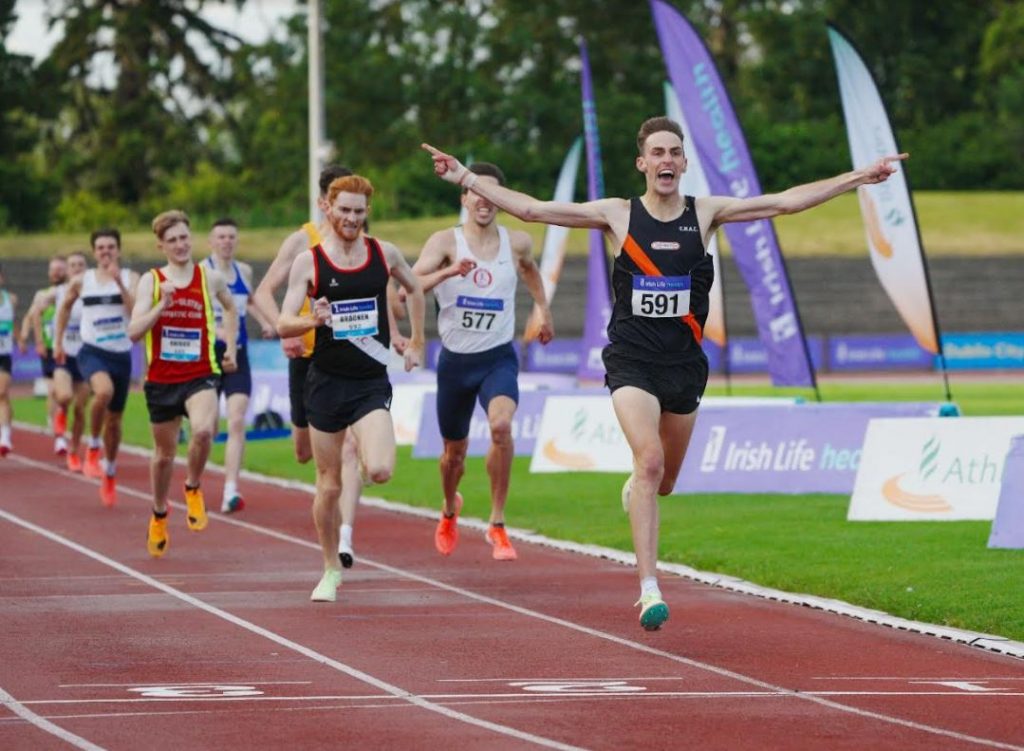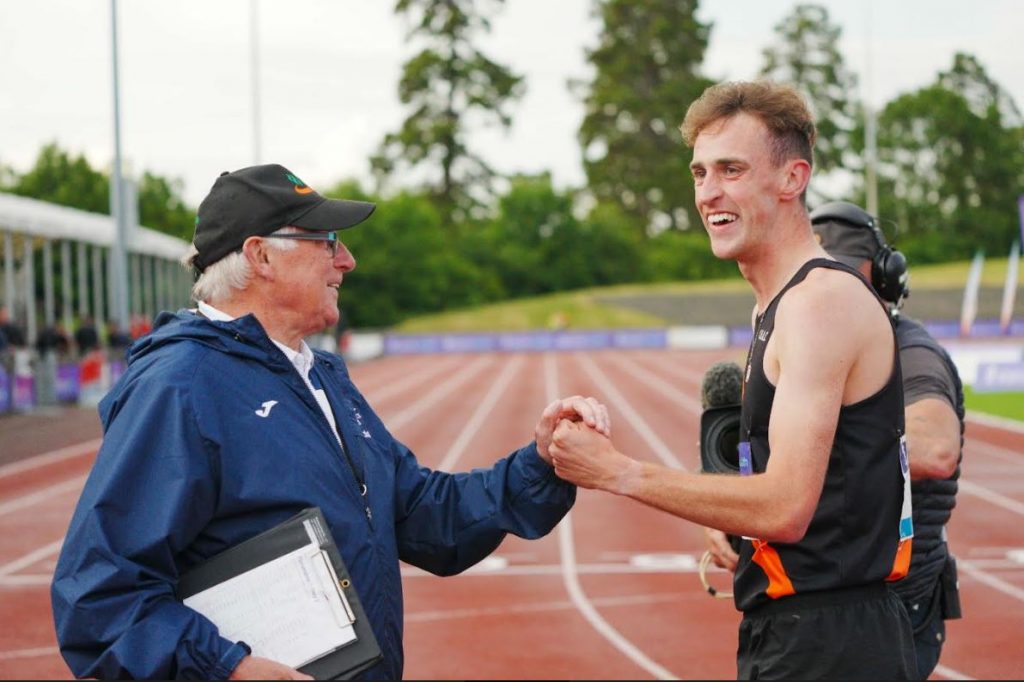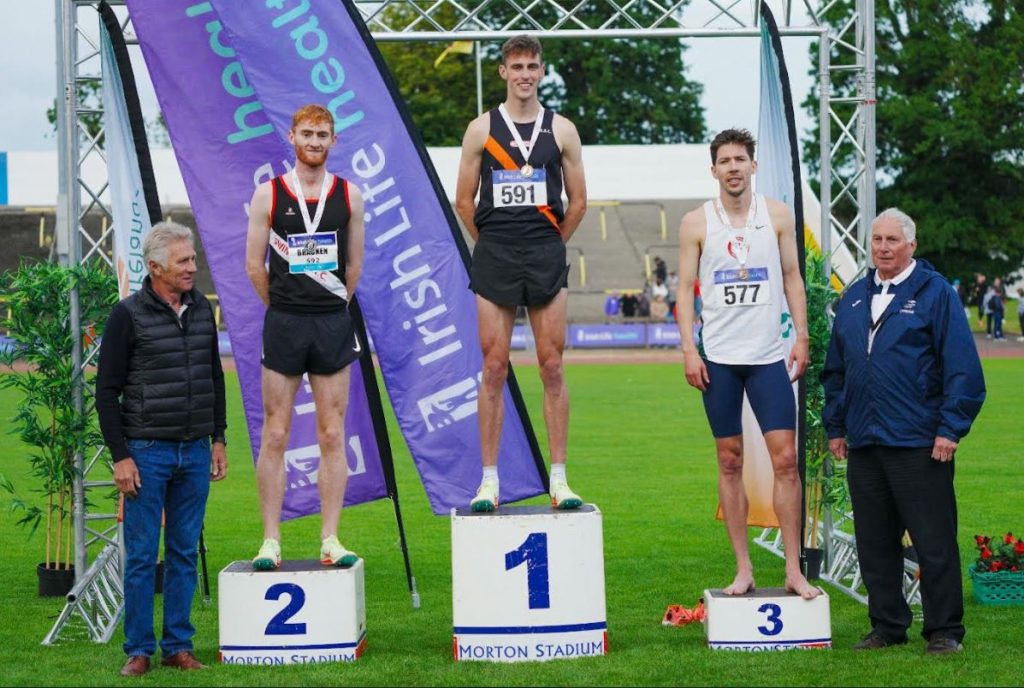 In the Women's 1500m Greta Streimtye finished in 10th place in 4:42:71, in what was a slow burner of a race.
In the Men's 400 Marcus Lawler finished 2nd in 47.94m. Marcus started lightning fast and was cruising on the back straight approaching the 200 m, coming into the home straight Marcus battled hard but could not close the gap to Chris O Donnell from North Sligo.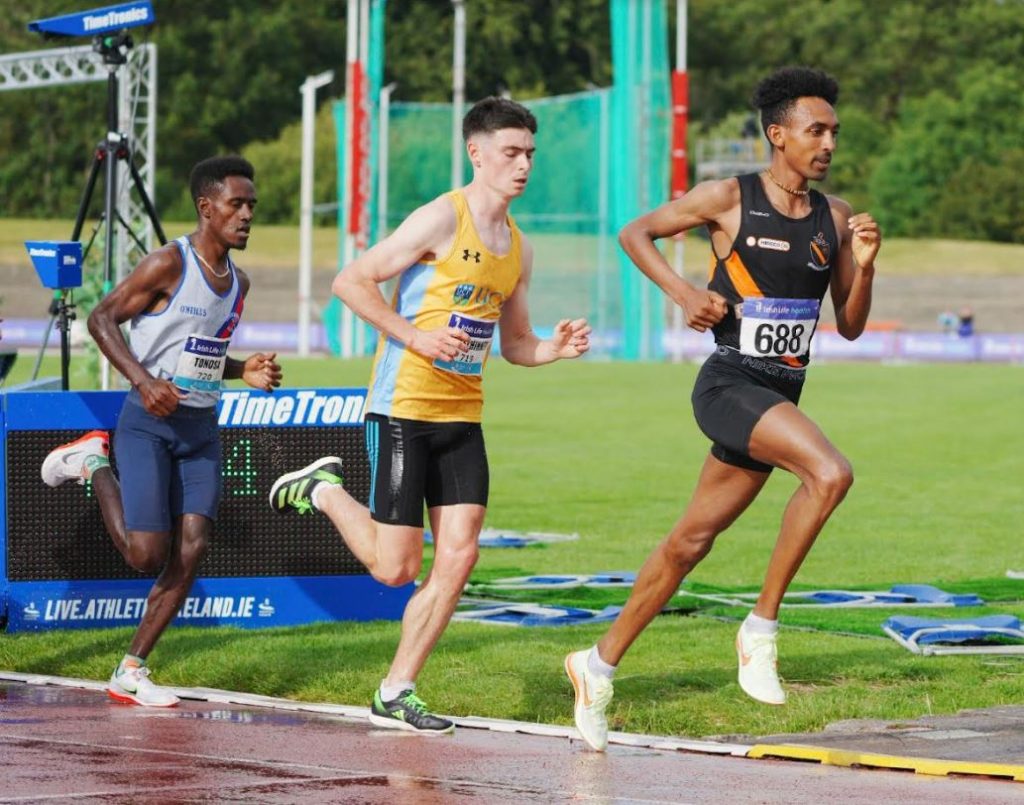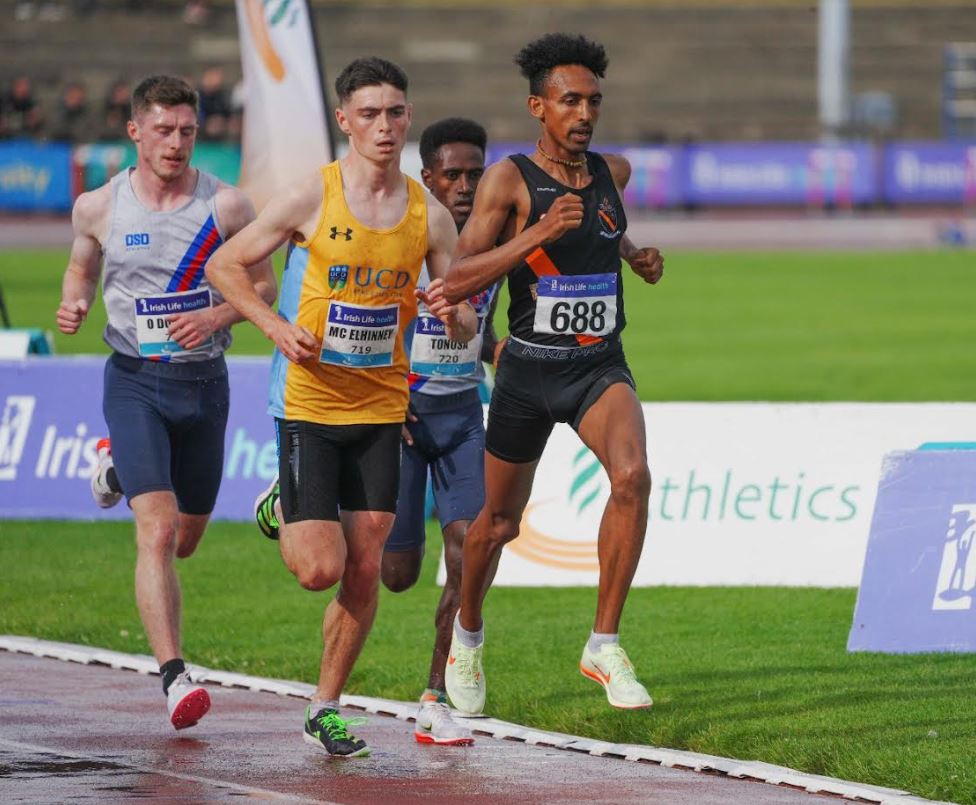 In the men's 5000m A race, Efrem Gidey was deservedly one of the favourites. The race started slowly for the opening lap at which point Efrem knew that his best option was to run from the front and attempt to stretch out the field. Efrem's efforts whittled down the leading pack to 4 with the fast finishing McElhinney, Tonasa and O'Donnell managing to stay the with the pace. At the bell there were only 3 with O'Donnell having been dropped, but try as he may Efrem was unable to create any distance between himself and the fast finishers and with 250 m to both McElhinney and Tonasa sprinted clear. Efrem however kept pushing to the end and showed that he too has finishing speed to claim bronze in 13:57, a little over 1.5 secs behind second place.
In the Mens 5000m C race, We had 4 starters with Cathal McHale finishing 5th in a time of 15:44:37 in what was a fine example of pacing as he worked his way through the field. Next was Thomas Sherlock finishing in 15:58:47 and then Eoin Keating making his comeback to championship running after a long list of injuries in a time of 17:45:86. Unfortunately Sean Doran was a DNF and didn't have a good day.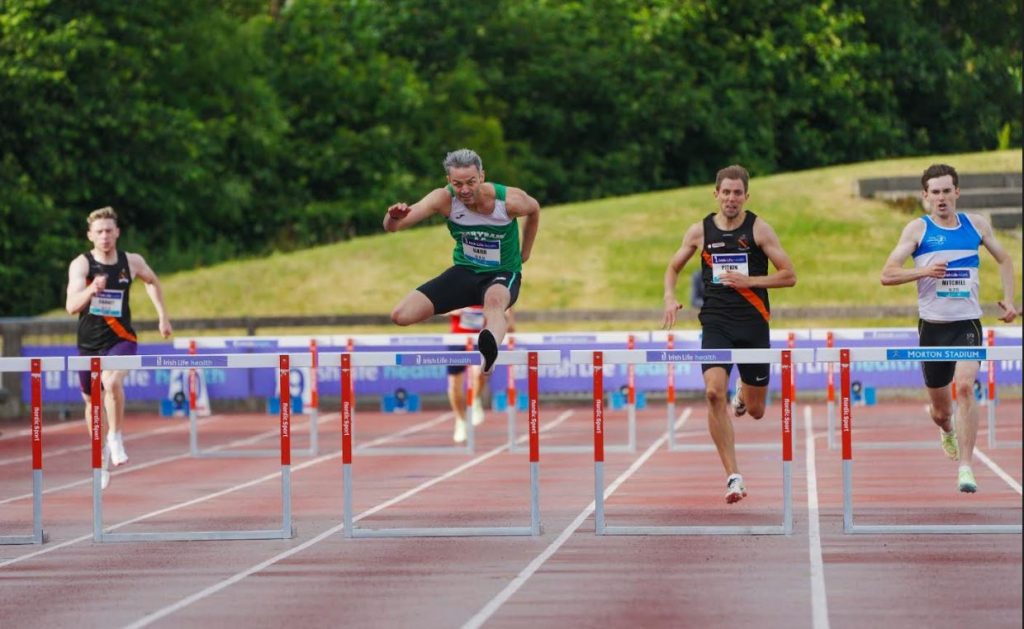 The men's 400m hurdle saw 2 Clonliffe athletes start, with Thomas Pitkin and Niall Carney were well positioned in the opening 200 m. In the final 200m Tom was chasing Thomas Barr but could not close the gap and over the final hurdle he was passed to finish 3rd. Niall ran well in his 1st National final and from lane 8 he found it difficult to make up any distance on the leaders but he kept battling all the wall to the line in a commendable 4th.
Back in the Field Conliffe's sole Women's medal of the weekend came from Grace Casey in the Javelin. Grace only joined in May and her 2nd throw of 40:77 was good enough to claim bronze.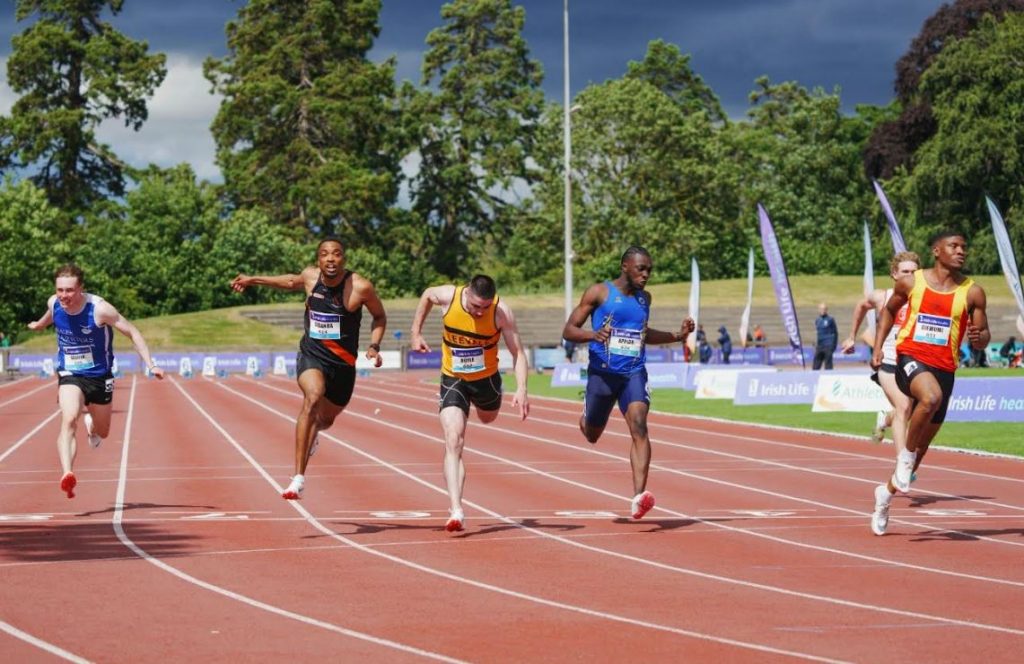 In the Men's 100 m Chris Sibanda made the final progressing from his heat in 11:10, as did Leo Morgan in 11:57. Pierce Friel came 5th in his heat and failed to progress further. In the Semi finals Chris Sibanda finished 2nd to progress automatically to the final in 11:07 however Leo Morgan was 3rd in his heat in 11:16 and did not make the final. In the Final Chris Sibanda unfortunately pulled up with what appeared to be cramped and failed to make an impact.
David Donegan in the Pole Vault had a difficult day and failed to register a height a 4:00m.
A special mention for Gladys Coopers juveniles who took part in the 150m race to recognise the 150th Edition of the Senior Championship, in particular Sophie Rattigan.
In all a great Nationals for the club: National titles for Cathal Doyle (1500), Eoin Sheridan (Discus) Jayme Rossiter (3000 SC), silver for Marcus Lawler (400), and bronze Grace Casey (Javelin), Efrem Gidey (5000) Simon Galligan (Hammer) and Tom Pitkin (400H)
It was great to see and hear the support for the Clonliffe Athletes from the many members present, hopefully all will be out in force again on Saturday for Morton Games.