On this Easter Sunday another of the future stars of Clonliffe Harriers steps forward. An athlete who has already demonstrated that she is made of "the Right stuff" having competed for the senior women's team in the National league outdoors and indoors and competed in both national juniors and seniors in 2019: Sarah Bateson.
Bio: I'm Sarah, I am 17 and compete in 800m to 5k. I joined Clonliffe in 2017 and was the Junior Athlete of the year in 2018.. I am currently in 6th year in St Mary's Glasnevin.
What age did you take up the sport of athletics and why? I was 8 years old when I started running. I started because my dad ran and I wanted to be like him.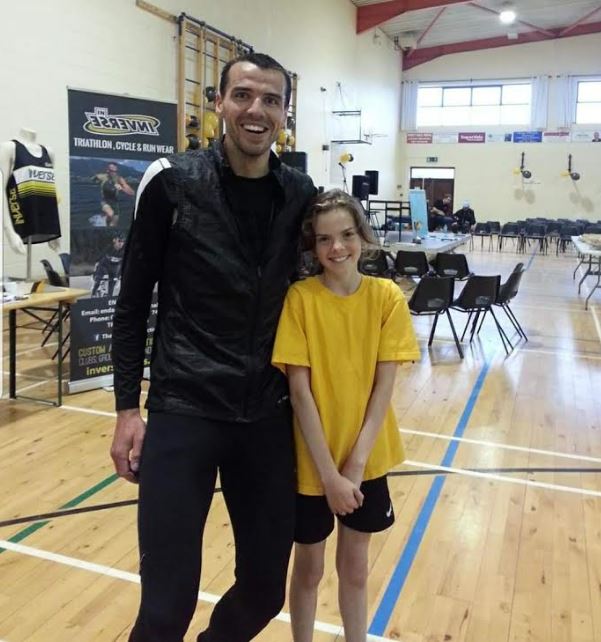 When and why did you join Clonliffe Harriers? I joined Clonliffe in the beginning of 2017 because I moved house. My old coach recommended this club and I filled out the transfer forms.
What is your favourite training workout? I enjoy most sessions, but 8×400 is my favourite. They are flat out and usually a summer session.
And your least favourite? 6/8x laps of the walled garden loop. Lactic acid attack.
What's your favourite race / athletics meet? Morton Games of course. Getting to volunteer allows us (junior athletes) to be around amazing athletes. Also helping to organise the junior race and competing at such a big event makes it such a great experience for me.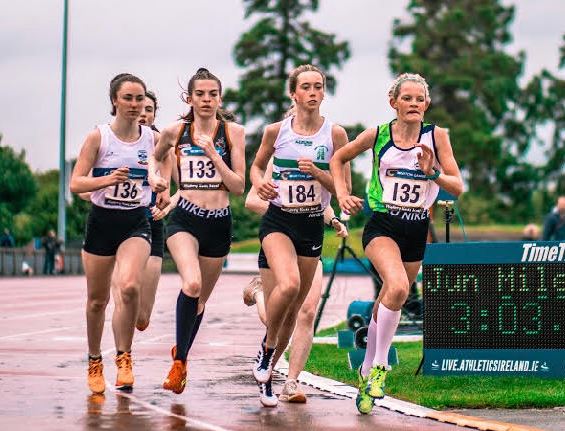 What is your most cherished or proudest moment in athletics? (as athlete and/or coach) Although a minor event winning at the Crosse das Areias Sāo Joāo, an open race held as part of the European Club Cross Country Championshps in Portugal 2019. The course suited me perfectly with dry, flat straights and steep hills. It was one of my strongest cross country races. Receiving the medal on a huge stage with an official presenter was a surreal moment. Also being away with my friends in a sunny country made it 10 times better.
What was your worst injury – and how did you get over it? I have been relatively lucky with injuries, usually just short term things. Shin splints is the worse injury I've had. I took 3 weeks off running and had another month of easy runs. In this time I focused on my exercises to strengthen my calves. Ice and rest are essential !!
(For a coach or seasoned athlete) What piece of advice would you give an aspiring athlete? Enjoy running- when you don't enjoy it training becomes a task and a burden. You need to be happy to make those sacrifices and do that hard work. Otherwise you will end up quitting. Also make sure you eat enough. Most distance athletes don't eat enough and it can cause major damage.
Do you have any memorable or funny story from Clonliffe Harriers that you could share? (the censorship board may review!) When we were in Spain earlier this year we were getting a bus to visit the course the day before the race. Of course Abbie and I were late and after a very angry phone call we sprinted down stairs. Realised we had forgotten our jackets, ran back up and down the stairs in stitches. Then we had a Spanish bus driver giving out to us, continued to sprint to the bus and realised we were sharing a bus with the English team and had made them wait 10 extra minutes. Had to be there but very embarrassing.
What's your favourite meal? A. For competition- pasta with a red sauce, mince and garlic bread B. Outside of competition- Everything. But pizza or Chinese is always a winner
Who is your sporting 'hero'? (athletics or other) A. Irish-Ciara Mageean. She shows Irish athletes can make it too. B. International- Laura Muir. She is such a strong athlete and always finds some extra gear to surpass the best of the best. You can always see the pain on her face and her ability to keep running through it is amazing, she makes it look easy.
What's your favourite…? A. Film- The Commitments/ Coming to America B. Song or Album- Post Malone by Sam Feldt C. Book- want to read Running for my life
What's your favourite holiday destination? Can't beat New York. It has enough food to fill a distance athlete.
What's your favourite hobby / activity outside athletics? Don't do much outside of running. A night out when there isn't any races on or just being around friends.
If you were Seb Coe what changes would you implement to improve our sport? I would reinstate the events taken out of the Diamond League. There shouldn't be a hierarchy of events in athletics
How would your non-athlete friends describe you? (in 3 words) Boring (not going out for running), dedicated and goofy
What is your next running / athletics goal? (whenever normality returns!) Hopefully some new pbs if there is any track in the summer: sub 4.50 1500, sub: 10.20 3k. Otherwise top 20 in national xc this year and a team medal.
How are you motivating yourself to continue training at these difficult times? For me, training is the only sense of normality at the moment, making training easy. We don't know when the world will be back to normal and racing will start but I want to be ready.