Another of our athletes currently living overseas, who is 2019 enjoyed a stellar campaign winning the National 3000 sc title and then in November was instrumental in bringing the National Cross senior men's team title back to Santry.
Bio: I am the reigning national Steeplechase champion and an Alumni of Loughborough University and DCU. I am coached by George Gandy and am currently based in Birmingham where I lecture in biomechanics, prosthetics and maths.
What age did you take up the sport of athletics and why? I took up running when I was 12 because I got half a day off school for every race that I ran. I ended up in steeplechase because Phil Conway, my school coach, knew that I liked Parkour and thought it might keep interested in the track.
When and why did you join Clonliffe Harriers? After a failed first attempt in 2005, some consistent scouting by Joe Cooper eventually led me to rejoin in 2008 (aged 16). I've been an active member ever since.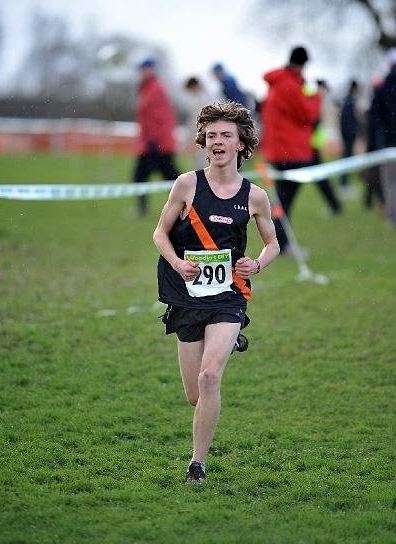 What is your favourite training workout? Grinding out a big cross country session in ankle deep mud. A classic Loughborough session example would be: 12mins @ 10kp 5 x 45s hills @ 3kp (jog back) 2 x 6mins @8kp off 2mins 8 x 30s hills @ 1500p 2 x 4mins @ 5kp 3mins recovery between sets, reps over undulating terrain.
And your least favourite? Tempo runs @ LT1, I find these grueling
What's your favourite race / athletics meet? The English National XC, nobody does cross country races like the Brits.
What is your most cherished or proudest moment in athletics? (as athlete and/or coach) Winning the Nationals Steeplechase title in Morton Stadium Last Year.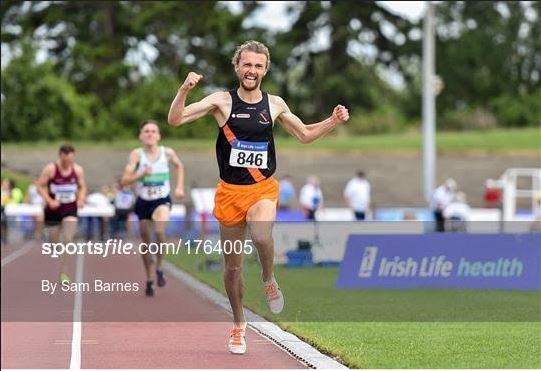 What was your worst injury – and how did you get over it? In 2016, I sprained my ankle when I stepped on a molehill on a run. The injury itself wasn't so bad but liagements are slow to heal and I was out for nearly 5 months with it missing the entire track season that year.
(For a coach or seasoned athlete) What piece of advice would you give an aspiring athlete? Trust the process and don't be afraid to take a rest day.
Do you have any memorable or funny story from Clonliffe Harriers that you could share? (the censorship board may review!) There was a rather infamous social after the Euroclubs Track and Field in Slovakia back in 2013. After having a respectable day at the event, we went out for a little "Social" to celebrate. In classic athletics fashion, things escalated and after befriending the Birchfield Harrier's Ladies team, we arranged to meet at their hotel. On arrival, we heard screams and laughter coming from down the hall so a couple of us went to investigate. What we found was half the Birchfield team in a hot tub filled with bubble bath and a mountain of bubbles filling half the room. At this point one of the more enterprising members of the team (who shall remain nameless) decided that watching wasn't enough and immediately stripped down to his boxers and jumped into the hot tub. While the reaction was initially "mixed" reaction to his sudden disrobing and arrival in said hot tub, but after some skilful use of the Irish charm, he was granted permission to stay. Other highlights included big Tommy ordering a protein shake from the hotel bar with a Jack Daniels shot in it and Kristapps Valters describing the various services that a Taxi drivers in Latvia will offer you on a night out.
What's your favourite meal? A. For competition – Pasta B. Outside competition – Also Pasta
Who is your sporting 'hero'? (athletics or other) A. Irish – John Treacy for his sheer toughness B. International Ezekiel Kemboi, a tactical genius with some killer moves.
What's your favourite…? A. Film – In Burges B. Song or Album – Radiohead's cover of the Theif by Cann C. Book – Nemesis Games by S. A. Corey
What's your favourite holiday destination? Favourite so far is Berlin but I really want to visit Norway
What's your favourite hobby / activity outside athletics? Cooking and shoe shopping
If you were Seb Coe what changes would you implement to improve our sport? Make cross country more of a spectacle. Joe public doesn't want to see gold courses, they want to see mud, hills, streams and fences. I think crafting a course where the viewer is always wondering if the athletes are going to make it over an obstacle or around a bend without falling would make the sport far more exciting.
How would your non-athlete friends describe you? (in 3 words) Fun, energetic and quirky
What is your next running / athletics goal? (whenever normality returns!) Qualify for the European Championships and finally break the club steeplechase record (0.61s off!!)
How are you motivating yourself to continue training at these difficult times? I'm supposed to be at altitude in Collorado so being stuck in a 2km bubble in Dublin is something of a downgrade but I'm an optimist, I believe that things will get better. Getting out for a run is easy, training is like a habit for me, I double 3-5 times a week normally so running is how I start my day most days. Getting the quality in is harder but my coach is setting up a time-trial leader board for our training group from May onwards so hopefully that will help keep me focused until the season opens.