A guy who was one of Fogo's Army back in the day, college in the USA and then an unfortunate health issue brought the curtain down on his athletics career in his early 20's, but undeterred is now one of our young coaches giving back to the sport and his club: Graham Mahon.
Bio: I'm 27 years old at the time of writing this but by the time it goes up I may be 28. I ran for Clonliffe then went away for college and when I came home start coaching here and am now one of the coaches for the U/13-15 group.
What age did you take up the sport of athletics and why? I started running when I was 12 or 13. I went to St Aidan's and one day in PE we done a 12 minute fitness test. I ended up beating a lot of people who were on the cross country team so thought I would try out for the running team thinking it would be easy. To say I was wrong about that would be an understatement.
When and why did you join Clonliffe Harriers? I only live a ten minute walk away from Clonliffe so my dad had tried to get me to join them for years when I was younger but it never appealed to me. I joined Clonliffe a few months after I started running with Aidan's under the recommendation of the legendary Alan O'Neill. I'm pretty sure he is responsible for a large percentage of the male juvenile and junior athletes in Clonliffe. As a coach I joined shortly after coming back home from college. I just went over one night to see if Gladys needed any help for a few weeks and if she was stuck I could probably stick around for a few months. That was over five years ago now. As a warning for everyone else if Gladys ever asks for help for one night or a few weeks by agreeing to that you are signing up for years.
What is your favourite training workout? I retired from running in 2014 with health issues so I don't really have a favourite workout anymore but my favourite was always any workout that involved speed work on the track. I was an 800m runner who did not like going over 800 so I always enjoyed sessions that included 200s and 300s.
And your least favourite? My least favourite was always 1k repeats in trinity. As I mentioned above I did not like going over 800m and was never too fond of cross country so 1k repeats with a bunch of cross country runners in trinity was the definition of hell for me. It has been ten plus years since I had to do a workout in trinity and I still have nightmares thinking about that place.
What's your favourite race / athletics meet? Based on all the other answers I think my membership is going to be suspended for not saying the Morton Games here. My favourite race is actually the Cologne Marathon. I was over in Cologne for it two years ago and I didn't run it but was blown away by the atmosphere around the whole city that day. I was with my friend who has absolutely no interest in running at all and even he wanted to go back to watch it last year. As well as the full marathon they also have a four leg marathon relay that I am planning on doing next year.
What is your most cherished or proudest moment in athletics? (as athlete and/or coach) My proudest moment in athletics as an athlete is being on the team that finished second in the schools cross country All Ireland's. I realise that may not sound too impressive compared what else has been achieved by others doing this but it meant a lot to me because the team the year above me in Aidan's always seemed to win and it would always completely overshadow all my teams 3rd or 4th place finishes. When I was in sixth year we were not that talented of a team. In Mr O Neills words we were "9th out of 8 teams" in the DCU invitational and then scrapped through the Leinsters by the narrowest of margins. We had five 6th years on the team so wanted to make sure we gave it everything in what would be our last race together. With that and the help of Ian Guiden passing on his own race to move up to senior we finished 2nd missing out on winning by a narrow margin.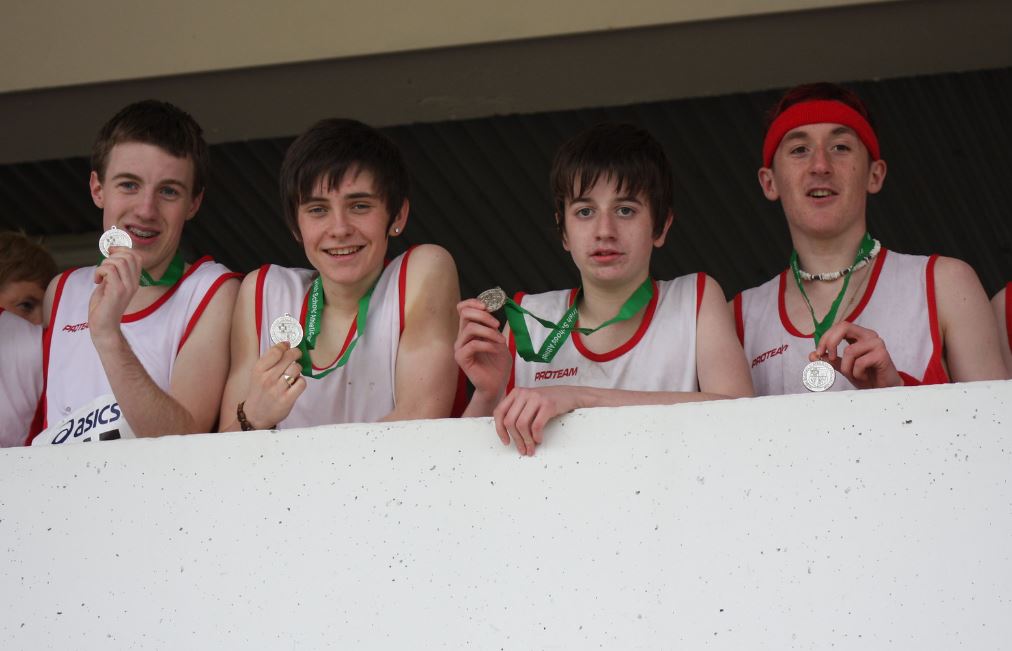 As a coach I have two proudest moments. Since I start coaching I have tried to get my parents to go to a race of the kids I coach. The Dublin even ages this year was the first time my mam has been able to come. Thankfully then the boys won the race by a huge margin and made me look like I know what I'm doing in front of my mam. The other would be at the Dublin uneven ages this year when the boys under 13 qualified. Going into that I would have been happy if they had finished 5th or 6th but all 8 of them on the team gave it absolutely everything that day to get 3rd place. I had never been more proud of any team that I coach than I was them that day.
What was your worst injury – and how did you get over it? My worst injury was more of a health issue than an injury. When I was 21 while on holiday with 2 friends I had serious heart problems. Unfortunately I never quite got over it and that is what forced me into an early retirement from competing in the sport I loved. I can still run but was never able to push myself after this and have to be careful with adrenaline levels so that pretty much ruled out racing again.
(For a coach or seasoned athlete) What piece of advice would you give an aspiring athlete? Make sure you are enjoying it all, the training, the racing, friendships and everything else that goes with running because it can all come to an end at anytime and you will miss it more than you ever thought you would. And listen to your coaches. They always want what is best for you. It might not always seem like but there is a reason they are having you do things. I used to question Mick and Joe every week why I had to do all the cross country training and never believed them when they would tell me it will stand to me. Years later when I didn't get a cross country season I had my worst ever track season.
Do you have any memorable or funny story from Clonliffe Harriers that you could share? (the censorship board may review!) I had to think about this for a while and what story I could tell that would be appropriate. During the European Clubs cross country in Bilbao in 2010 I had gone a long as a spectator. While there a lot of us went to Athletic Bilbao vs Xerez. Where we had got our tickets for ended up being right beside the Bilbao ultras. To say the looked and sounded intimidating would be an understatement. I remember sitting beside Ian Guiden and both being terrified of these. At one point we turned around and there was Joe singing along with all of them. Now he did not look or sound as intimidating but I am almost certain they tried to recruit him to join them that day and probably send him a card every year to get him to sing up to be one of their ultras. There are other stories from that trip that I think it's best I don't mention.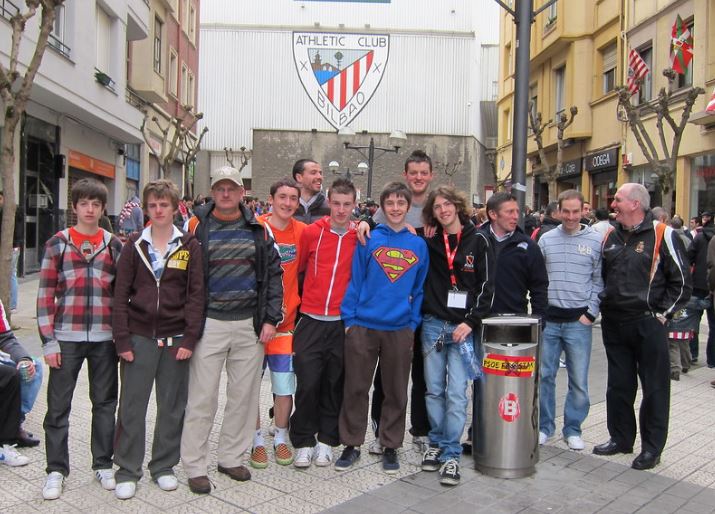 What's your favourite meal? A. For competition- diet was never quite my strength and my favourite meal the day before completion was always burgers. B. Outside competition- Chinese food without a doubt.
Who is your sporting 'hero'? (athletics or other) A. Irish-Katie Taylor B. International-Tom Brady
What's your favourite…?A. Film-Inside Man, B. Song or Album-Song-Badlands by Bruce Springsteen, Album- Born to Run C. Book- I'm not too much of a reader so haven't read that many books my favourite though would be The Heritage by Howard Bryant
What's your favourite holiday destination? I suppose it would have to be America with my favourite places there being Memphis and Chicago.
What's your favourite hobby / activity outside athletics? I watch a lot of sports so usually something involving that. A few years ago I started going to Borussia Dormtund matches and try get over to one a month but obviously that has to be put on hold for a while.
If you were Seb Coe what changes would you implement to improve our sport? A lifetime ban for anyone who fails a drug test even if it is one of his fellow countrymen or women. Try and create better atmosphere at meets and try to promote big name athletes more to get more people interested in the sport.
How would your non-athlete friends describe you? (in 3 words) I didn't know how to answer this so I asked my friends and after having to remove a few I got: Enthusiastic, Colourful and energetic
What is your next running / athletics goal? (whenever normality returns!) I really want to try and finish a marathon before I turn 30. Ideally it would be the St. Jude Memphis marathon but I have a long way to go before then. Also as I coach I just want to be half as good of a coach as all the coaches I had while running for Clonliffe. Think at the minute the marathon might be more realistic than that one though.
How are you motivating yourself to continue training at these difficult times? This is actually a lot easier when you don't actually train anymore. But I have signed up for coaching courses online with ALTIS and Steve Magness and Jonathan Marcus to try and at least improve as a coach.