The Morton Games is back with a bang tomorrow week, Saturday, July 2. The meet will get underway at 6 PM with the pre-programme which includes the interclub juvenile 16 x 100 relay, and the junior mile races for men and women and an Inter Varsity 4 x 400 mixed relay. The main international programme then commence at 7 PM. There are additions to the programme to expand it, new events this year are the women's 100 hurdles and men's shot.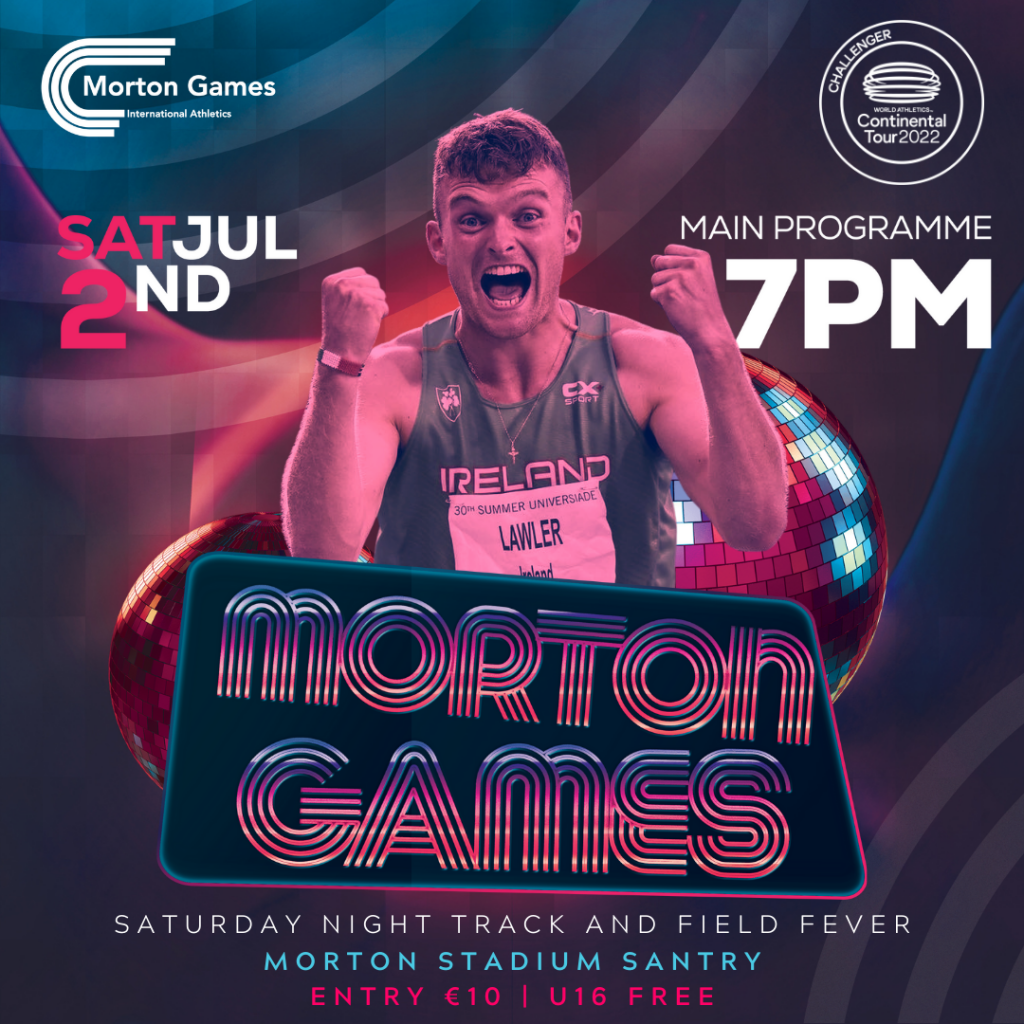 Pre program: junior women's mile, junior men's mile, 100 men qualifying races, juvenile 16 x 100 relay, inter-varsity 4 x 400 (mixed) relay
Women's events: 100 hurdles, 100, 400, 800, mile, high jump
Men's events: 100, 400, 800, Morton mile, 5000, shot, javelin
This has been a huge undertaking for our club, there are in excess of 250 athletes taking part in Morton Games including the best part of 100 overseas athletes coming as our visitors. We are appealing to our club members to come out in force and support the event, spread the word, bring your family, invite your friends. Entry to Morton games is a mere 10 Euro, U/16's go free. This is a great nights entertainment from 6 PM until 9:15 PM, all of 3 hours 15 minutes of non-stop entertainment. The theme of the night is broadly Saturday Night Fever so if you enjoy 70s music this is the night for you. There will be also food trucks in attendance so you can have a bite to eat and of course not forgetting the club bar will be open throughout the evening. Online tickets are still available, online ticket sales will cease on Monday, to allow sufficient time for posting. Payment can however course be made on the night itself.
You will find all information about Morton Games, the latest announcements on lead entries, timetable and everything else you need on the event website mortongames.ie
Clonliffe athletes competing in the 2022 Morton Games include: Emma Mitchell, Marcus Lawler, Leo Morgan, Chris Sibanda, Luke Lennon – Ford, Cathal Doyle, Ian Guiden , Efrem Gidey, Niall Carbery and some 32 juvenile athletes in the relay!
It promises to be a great night of Santry Night Fever. Please come along.