Post the Rome Olympic Games of 1960 closing ceremony September 11th the athletic promoters of Europe sought the medal winners of the games and others to appear at their upcoming athletic meetings. Number one on the list of course was the new Olympic Champion over 1500m Herb Elliott. His runaway victory in a new world record of 3 minutes 35.6 sec over Michel Jazy was the talk of the athletic world.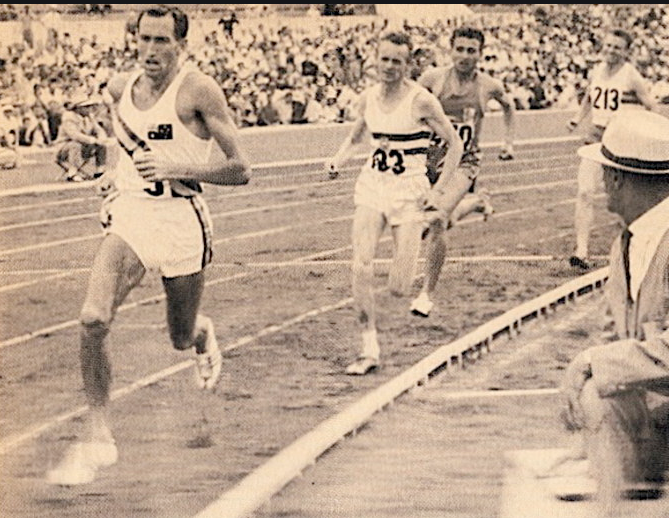 Despite the desire of many athletes to return to their far off homes and considering the reduced daylight in Northern Europe and the dropping temperature for night time racing, it was a tribute to the status of the Santry track and the skills of Billy Morton that Herb Elliott agreed to race once more on this day September 22nd 60 years ago.
And so at short notice another Clonliffe Harriers International meeting was organised and again temporary lighting had to be arranged.
I remember but a few of the highlights, Ron Delaney winning the 880yards in 1min 48 sec. John Thomas putting his failure as favourite to win the Olympic gold behind him to jump 7ft 2 inches that night at Santry and then the magnificent Herb Elliott winning the mile in 3 min 57 sec which was another great performance in late September at Santry. Gordon Pirie the versatile English runner-cross country international, world record for 3000m, silver medallist in 5000m at Melbourne games in 1956 and one of the competitors on the opening night of the Santry track in May 1958. Don as he was known came hoping to get for him an elusive sub 4 min mile for the 1st time-running without shoes and with his feet taped he achieved his goal on the red cinders of Santry with a 3 min 59.9 sec time.
I remember where I stood that night at Santry as the crowd roared Herb Elliott home. (Maurice Ahern)