Declan Power Reports: It was mostly a case of tricks n' treats rather than a horror show, as Clonliffe brought home some Silver and Gold from the Dublin Cross-Country Championships today, taking place close to the
witching hour on 31st October.
In recent years since the athletics calendar re-shuffle, this event has served as a useful yardstick as to the shape and form of the county's leading clubs and athletes ahead of 'The Big Dance': the Nationals, which is just three weeks away. On today's evidence, Clonliffe can justifiably claim to be in the medals conversation in Santry Demesne come Sunday the 21st November. Between them, our Junior and Senior teams racked up a Team Gold, two Team Silvers and a fabulous Individual Gold as the icing on the cake.
Among all of that, some battling performances throughout and a large turnout by the Black n' Amber, many of whom have not raced over the country in almost two years for reasons that need no repeating. The going was good underfoot on the flat environs of Trinity Playing Fields, Santry, despite the overnight rain. The course
had plenty of long stretches for the speedsters to push the pace, with just a couple of tricky
technical sections and proper muddy patches. The only 'no-show' by Clonliffe was our team tent
which had been erected on the course the evening before. As the wind picked up overnight, the tent
decided it didn't much fancy the return to cross-country and took off over the fence and was last
seen in several parts across the Northwood housing estate!
Following the juvenile races earlier in the day, it was the turn of our Junior Women's team to line up
and get stuck into the mud. Sarah Bateson led the charge with a fine 5th place, followed by Naoise
Cullen (11th), Abbie Sheehy (13th) and Aimee Daly (15th). This fantastic four racked up 44 pts, just
enough to claim Silver, 2 pts ahead of Dublin City Harriers in Bronze. That Silver was won thanks to
our non-scoring runners – Katie Halpin (16th), Aoife Hession (17th), Lara Gallagher (19th) – once again
demonstrating that every place counts in team cross-country. An impressive DSD team claimed Gold
with some daylight to spare. It should be noted that the slightly younger juniors, the U/19s of Naoise, Aimee, Katie, Aoife and Lara also picked up team silvers.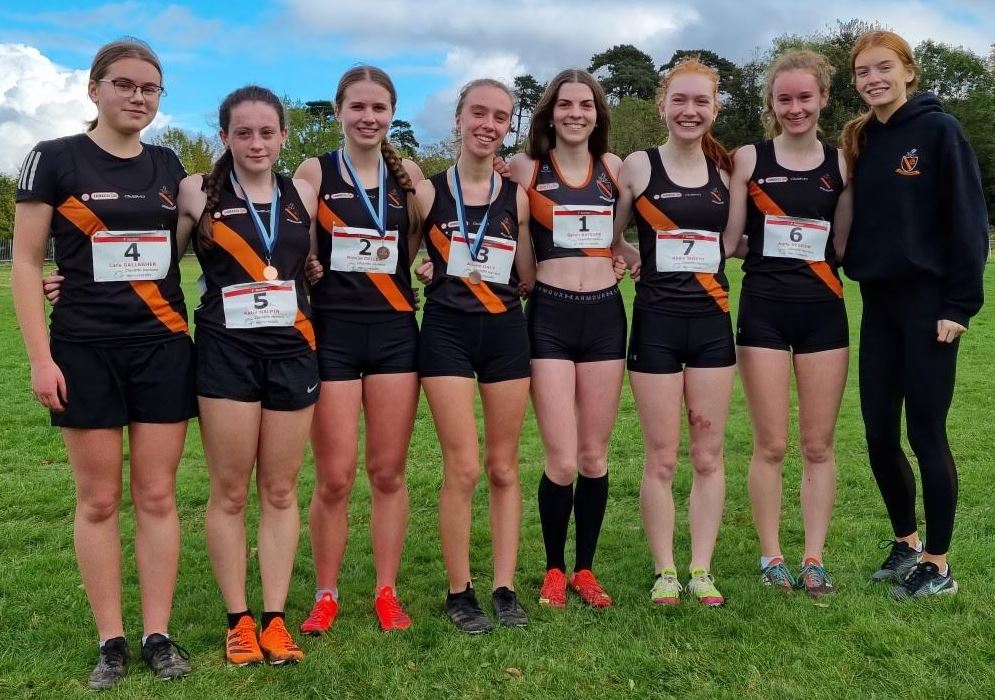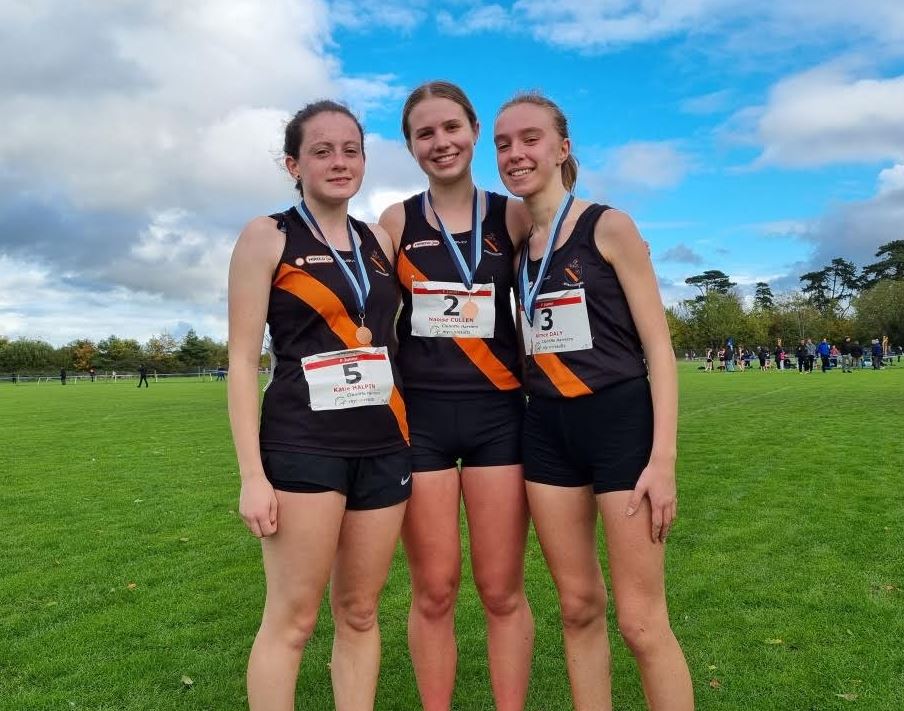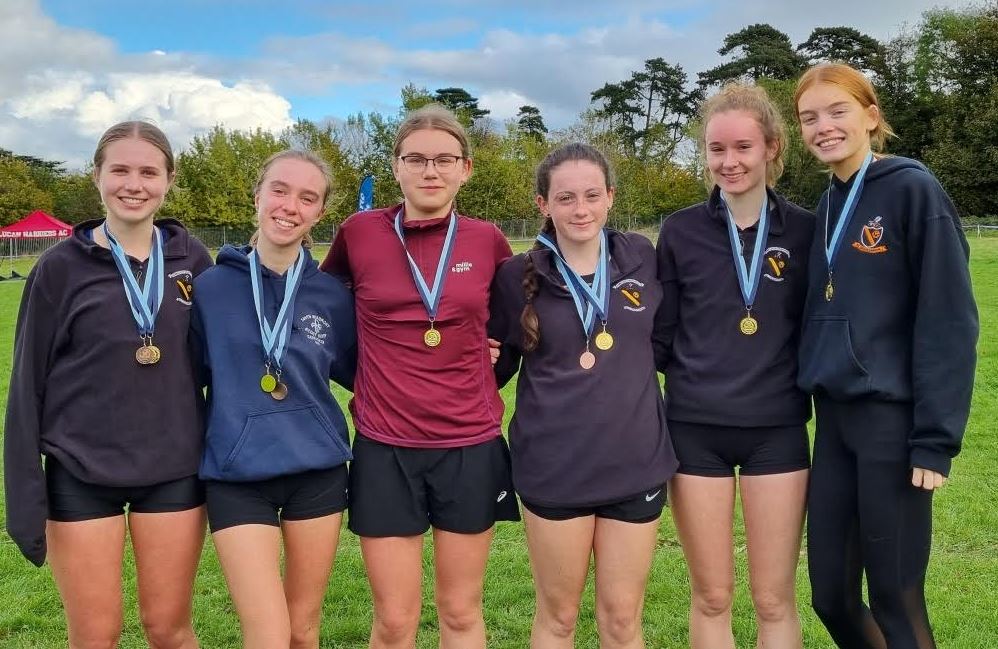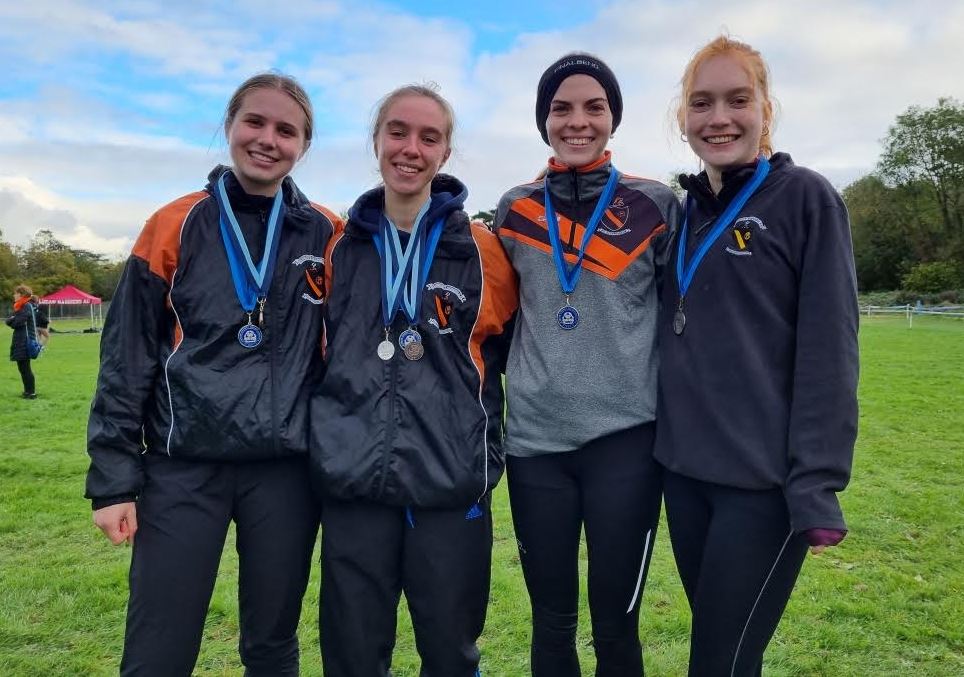 Up next were the Junior Men, and were clearly inspired by the Women, matching their endeavour
and the colour of the Team medals. Our Silver scorers were Niall Carberry (6th) admirably digging in
to hold position after earlier being in the hunt for podium, Ronan Donahue (9th), Sean Boyne (11th),
and Darren O'Dwyer (13th). These four combined for 38 pts , just 7 pts behind Raheny Shamrocks and
well clear of DCH. An impressive large supporting cast for Clonliffe was led by Daragh Carter (14),
Dermot Buckley (22), Cian Murray (23), Jack Woods (28), Andrew Gaffney (29), Eoin Byrne (31) and
Cian Whelan (32).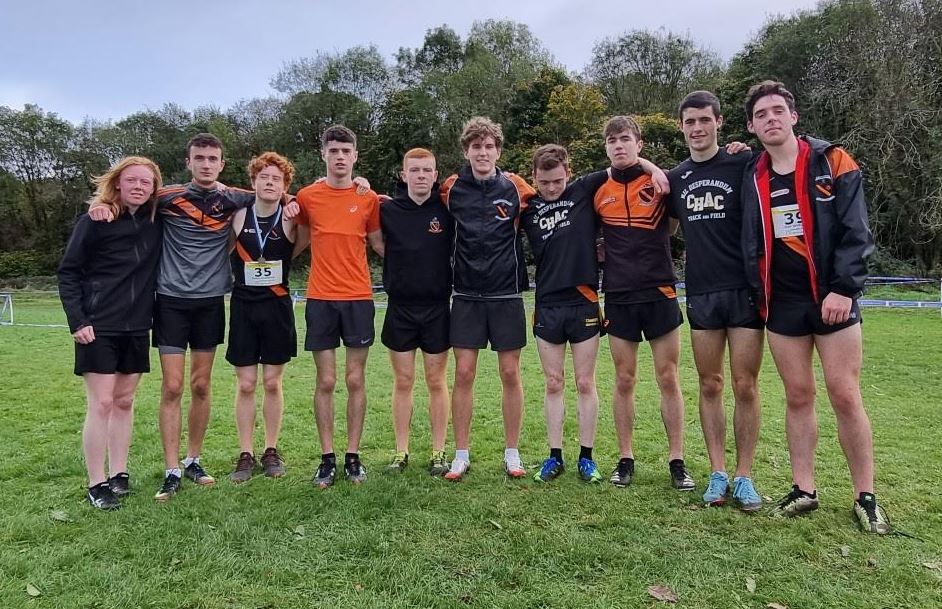 Our Senior Women's team emerged from the Clonliffe 'Virtual Tent' ready to take centre stage. By
now, the wind had picked up with some showers into the mix, which thankfully passed over quite
quickly. Several of our team paced conservatively, which paid off nicely as they picked up places over
the 6K and eventually rewarded with 4th place (101 pts). Sadly, no team medals on this occasion to
match the Junior teams' heroics, but a solid race behind them and invaluable experience for a few
which will serve well in the lead-up to Leinster and National Championships. The ladies were led
home by Laura Power (16), a previous National Marathon and Half Marathon medallist Ailish Malone
(27), Kate Hawkshaw (28), Laura Tuite (30) supported by fine performances in the final shake-up by
Ciara Peelo (36), Sarah Hawkshaw (37), Hannah Browne (38), and Megan O'Keeffe (40).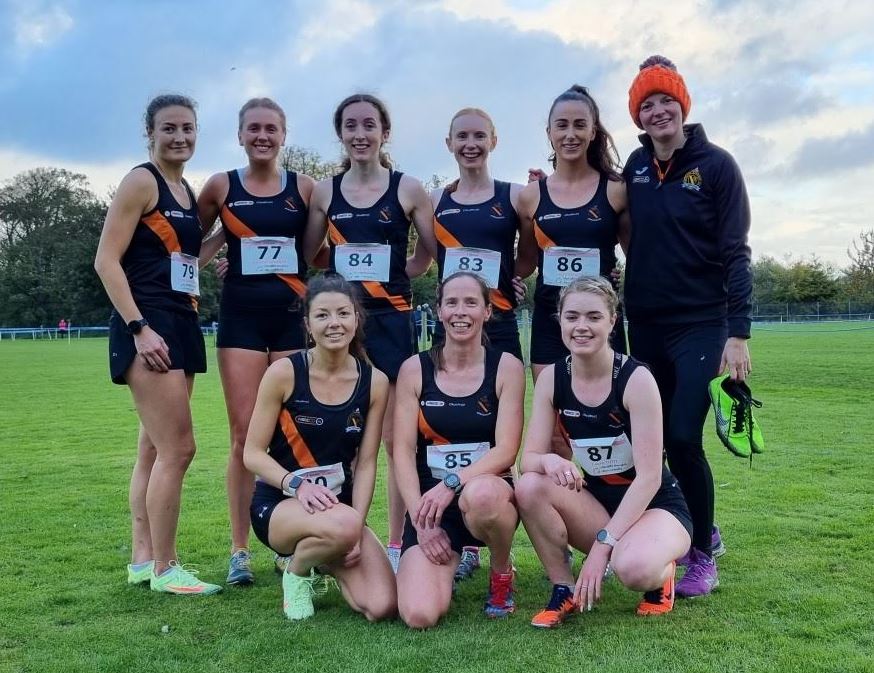 So, to the final event of the day, the Senior Men's race, 10k over a gruelling 7 laps. The ground
underfoot had held up surprisingly well, with just a few boggy sections and thankfully the forecasted
rain had pushed out by another hour or so. From the off, the Clonliffe Men up front showed that
they meant business and seemed intent on making a statement ahead of Nationals. The Black n'
Amber were prominent up front with Sergiu Ciobanu, Ian Guiden, Sean O'Leary and no less than
former a National Champion and Olympian Mark Kenneally, all featuring in the leading pack of 10 or
so. Down the field, the lads were packing well with Messrs Cashin, B. Guiden, McDonald and Taggart
all keeping close company with the prospect of at least one pushing through in case of any issue for
our leading four. As the laps wore on, the field predictably began to stretch out, with Sergiu and Ian
still in the hunt for a podium place or even better. Sean and Mark had dropped slightly at this point
but as true 'team men', they were far from throwing in the towel, ensuring Clonliffe were in prime
position for Team Gold. Behind them, Ben Guiden was calmly slicing through the field, and befitting
the Hallowe'en season had the scent for blood up ahead! As the race reached its penultimate lap,
Sergiu decided enough was enough and made his move for home. He wasn't to be caught, leaving
Paul O'Donnell (DSD) and Mitchell Byrne (Rathfarnham) in his wake – no slouches themselves! Sergiu
punched the air in triumph as he crossed the line in 30:52. This was a performance to savour, his first Dublin Cross country title, from an athlete who has performed with distinction on so many occasions for Clonliffe in the past, more recently over the roads and maybe some people thought his best cross-country days were behind him. Well, they can think again!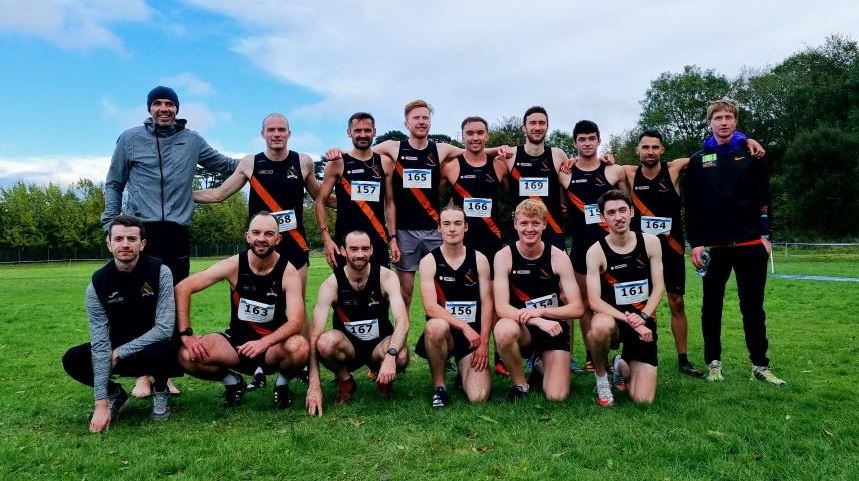 Sergiu also took home a Team Gold as he was followed home by Ian Guiden (6), a fast-finishing Ben Guiden (7), Sean O'Leary (9), Mark Kenneally (10) and Stephen Cashin (17), with four to score and six to medal. The rest of the team stood up to be counted, crossing the line in large numbers which was great to see. The roll call: Eoin Taggart (19), Richie Owens (25), Tom Sherlock (25), Mark McDonald (32), Karl Nolan (39), Sean Doran (41), Ian McAweeny (44), Niall Sherlock (51) and Thomas Balthazar (53). The team retaining for the 3rd successive time the Padraig Keane Cup, presented by Mary Keane. Gentlemen, take a bow!