Eugenia Bateson Reports: Gerry Carr and Anne Murray took advantage of the Bank Holiday Monday and took their groups to St. Abbans A.C. An early start, the 40 athletes boarded the bus to Laois. St. Abbans put on a fantastic well run event. Great organisation, a warm welcome and a brilliant atmosphere  with each of their volunteers making us feel welcome.
 It was a day of fun, no pressure and try as many events as you like, and that they did.  More than that, great team building,  memories and new friends were made.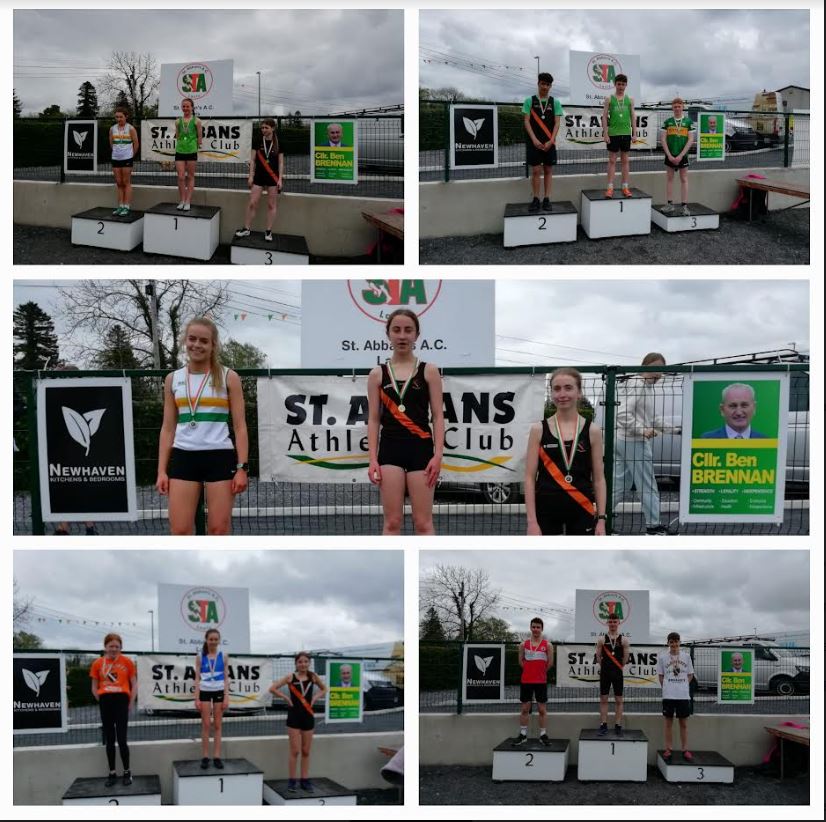 No big report today but our medal winners were:
U16 High Jump –  Joint 2nd Cadhla  and Ava at 1.40m
U16 100m Boys 1st place Jaydon Carroll, 3rd place Jack McDonald 
U16 Boys High Jump 3rd Jack McDonald 
U16 Girls 100m 1st Ava Usanova, 3rd Emily Jancha
U15 Boys 100m Brooklyn Jackson 2nd
U14  Girls High Jump Sophie Kiernan 3rd
U14 Girls 80m Zoe Mulligan 3rd
U15 Girls 700m Sandy Rose 2nd
U15 Girls 700 Harriet Kenny 3rd
U15 Boys 700m Brooklyn Jackson 3rd
U16 Girls 700m Rebecca Walsh 2nd, Ciara Sheehy 3rd
U16 Boys 700m Rory Quill 2nd
Junior Girls 1500m Hazel Kenny 1st, Clodagh Nic Dhomhaill 3rd
The end of the day was the relays with brilliant performances from all teams. The Junior Relay was mixed teams and was a fantastic club effort with the boys and girls working together.  We had 6 teams as did St Abbans. Both clubs got 3 teams each into the final which was a very fitting end to the day. Clonliffe took 1st and 2nd in the final.
Fantastic day had by all which of course was rounded off by a trip to McDonalds to celebrate.
Well done to all. Special thanks to the coaches for giving up the Bank Holiday to bring the athletes down. Also thanks to Laura and Jake Kiernan who were kind enough to bring their car when we were a couple of seats short on the bus, to ensure everyone got to go.
Congrats to St Abbans on a fantastic event and thanks for the hospitality.