Clonliffe headed to Belfast last night for the Northern Ireland/Queens 5K Championships fielding both a men and women's team. It proved to be a very successful outing for the club. The race headquarters was situated in Queen's University, it was very well organised event, with hasslefree parking, a well-organised number collection facility and most importantly ample toilet facilities – it is a 2 1/2 hour drive from Dublin! The course itself was held on the banks of the river and was a 2 and three-quarter lap race with the athletes facing a head-on wind on one side of the river on each lap.
Ian Guiden ran an excellent race, his first since November's national cross country, in the lead trio from the gun along with teenage sensation Nick Griggs (Mid Ulster AC), a recent inductee to the sub- 4 mile club and Ben Branagh (St. Malachys). These 3 pulled away from the pack and were lapping the field by the end of lap 2, with 1,000 to go Branagh was dropped and then with 400 to the line Griggs pulled away from Ian to win by a margin of 5 seconds. Ian placed 2nd in 14.18 as both athletes dipped under Paul Pollock's 2014 course record of 18.20. Jonny Whan as usual ran a very measured race coming through strongly in particular over the 2nd half to finish in 4th place in 14.30. The men's team was completed by Georges Legentil, placing 109th in 17.09 and Kevin Loftus 121st in 17.19. All four Clonliffe men logging new PB's.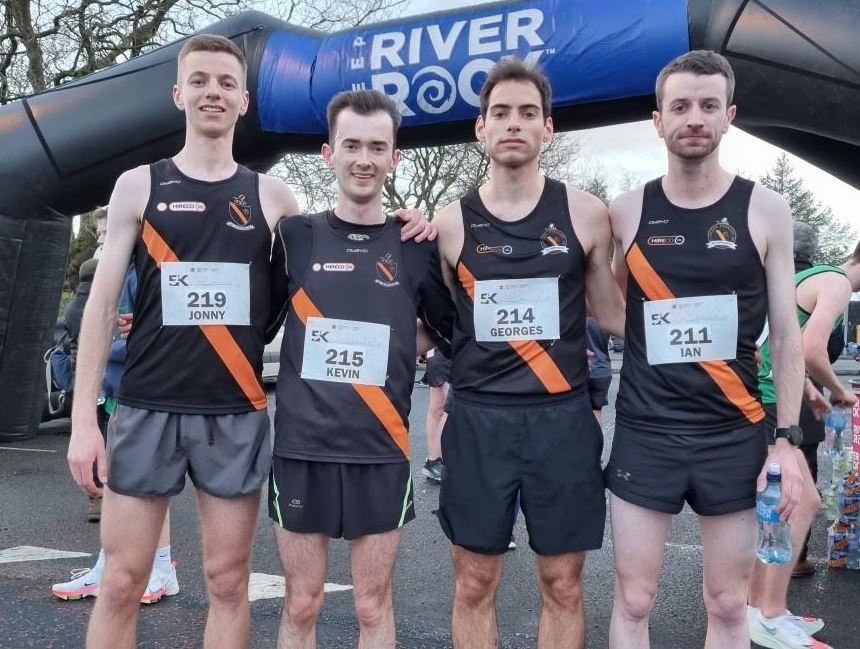 The Clonliffe women put in an excellent performance to claim team silver. The team was led home by Emma Mitchell who took individual gold, Emma running a brilliant 16.09, in 58th position overall. Clocking a new PB of 18.02 was Laura Tuite, after a very positive run, next in was Alannah Cooley 18.55 and then Sarah Hawkshaw, also in a new PB, 19.01. The team finished 2nd behind Annadale Striders with North Down 3rd.
The overall impression was that the Queen's 5K is a superbly organised event with a very friendly atmosphere and is without a doubt to be included in next year's calendar!