Clonliffe Harriers Club Shop
"Clonliffe Harriers Athletic Club 1886-2013" by Dominic Branigan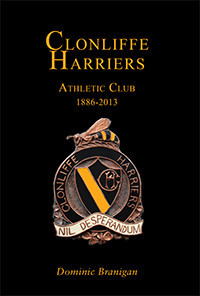 The long awaited history of Ireland`s premier athletic club does not disappoint. An excellent definitive history of Clonliffe Harriers from it`s foundings by "the lads" in Knotts Cottage, Richmond Road in September 1886 to date, with fascinating chapters on the Early Days, The Tommy Burton Years, The Morton Era, The Clonliffe Ladies, Club Races, Clonliffe Olympians and an abundance of Clonliffe Statistics and historic photographs.
Cost €30.00
Currently available for purchase in the club house or from Dominic by e mail dombran@eircom.net
Clonliffe Harriers Club Gear
Clonliffe Harriers A.C. has available for sale exclusive Clonliffe Harriers athletic apparel.   Currently Clonliffe Harriers  has available club singlets, club hoodies, technical training t-shirts and beanie hats.   It is hoped to expand this range.   Club gear can be purchased through Noreen Keane in person on Thursday nights in the clubhouse from 8.30 p.m. to 9 p.m. or alternatively items can be ordered by completion of the order form below and then collected on Thursdays.   All items must be paid for in full either by cash or cheque.
The following Clonliffe Harriers A.C. gear is currently available: 
[nggallery id=7]
Clonliffe Harriers A.C. Club Singlet
This is a Performance racing singlet made by Owayo – Made from lightweight wicking fabric and features the Clonliffe Harriers  club crest and our club sponsor Hireco's logo. Singlets are available in a variety of sizes.
Cost:  €25.00.
Clonliffe Harriers Womens 50th Anniversary tech. T shirts:
This Technical T shirt has been specially designed to celebrate the 50th anniversary of the founding of the women`s section of Clonliffe Harriers in 1963.
Cost: special price of €10.00
[nggallery id=6]
Clonliffe Harriers A.C. Orange Training T-shirt
This technical quick dry sports t-shirt is available in orange and features the Clonliffe crest and Hireco logo. Available sizes: S, M and L.
Cost:  (out of stock)
[nggallery id=8]
Clonliffe Harriers A.C. Hoodies
These black hoodies are made from 50% cotton and 50% polyester and are ideal for warmups for both training and racing. Sizes available limited
Cost: €25.00
[nggallery id=9]
Clonliffe Harriers Beanie Hats
One size fits all featuring the Clonliffe crest on the front with 1886 to 2011 and on the back featuring the Clonliffe Harriers wasp.
Cost: €10.00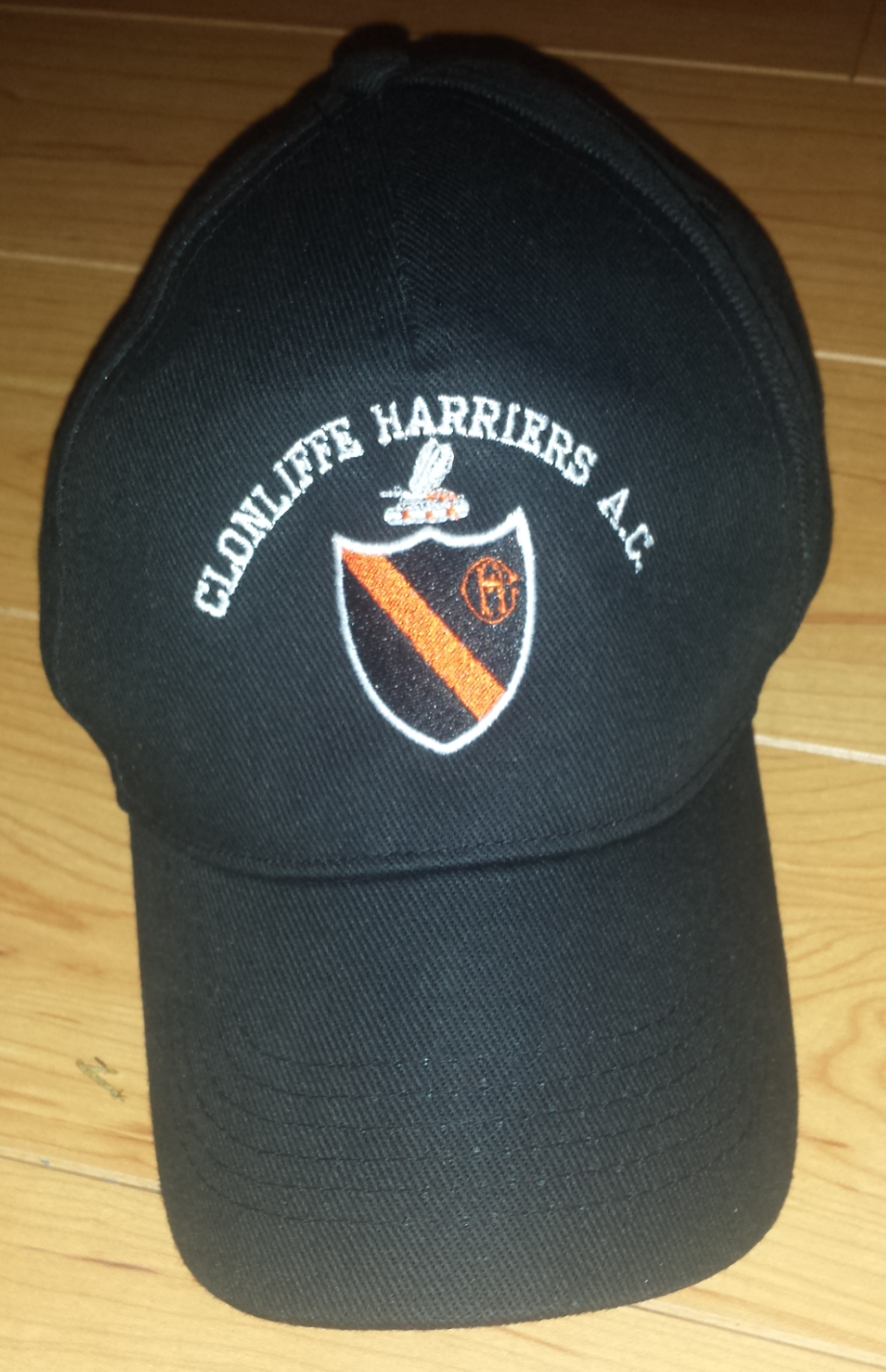 Clonliffe Harriers Baseball Hats
Currently as a trial run item. If interested contact markmcdonald2@mail.dcu.ie.
Cost: €10.00
To purchase any of the above please complete this order form or contact Noreen Keane by text on 087 684 6662.
All items can be either ordered or collected from Noreen Keane in the clubhouse on Thursday evenings from
8.30 p.m. to 9 p.m.
 Order Form: