Efrem Gidey of Clonliffe Harriers flew around the roads of Santry today to successfully defend his ERP Christmas cracker 5K title. With some 300 entered over 250 started and finished the 5K loop from Morton Stadium up through Northwood and back to the stadium enjoying the pretty unique experience. It was a perfect morning for a race, warm and still.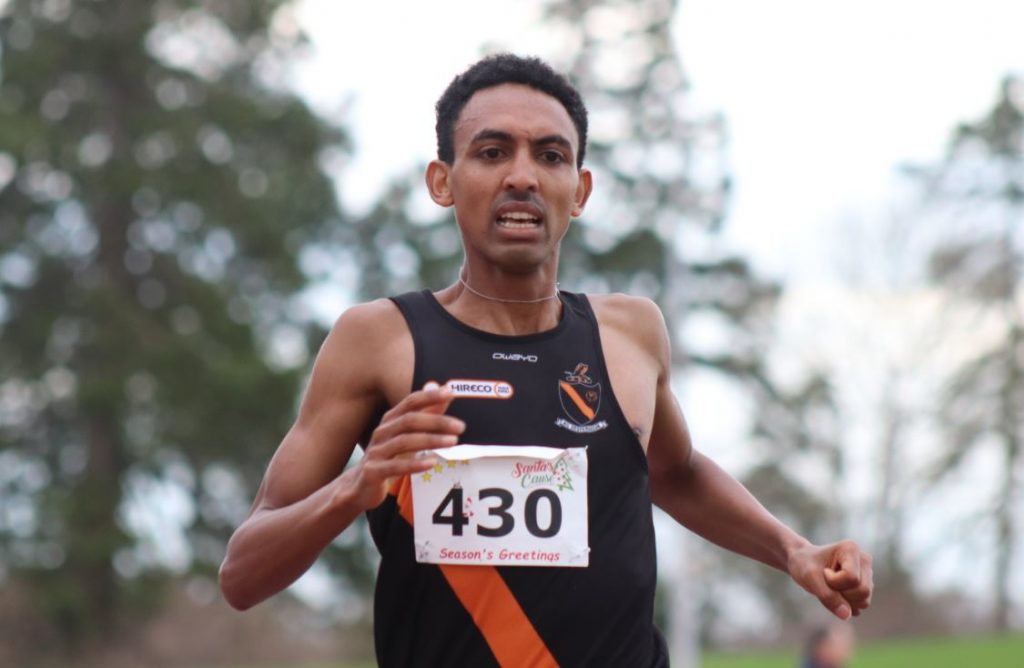 Efrem was of course the favourite to win today and the European U/20 bronze medallist did not disappoint. He took the race by the scruff of the neck from the off leading the athletes out of the stadium onto the Swords Road and was back across the line in a fantastic time of 14.25 a mere three seconds off the 2013 course record of Mark Christie (Mullingar). Efrem's winning margin was over 40 seconds ahead of Colin Maher (Ballyfin), 15.06, third-place was Rathfarnham's Eoin Flynn (15.19), in fourth place, and first junior in a new PB of 15.31 was Ben Guiden of Clonliffe Harriers, fifth was Shane O'Neill (Rathfarnham) 15.43 with Niall McKnight (Annadale), 15.44 completing the top six.
The women's race proved to be one of the best in a number of years as Ciara Hickey (Bros Pearse) won in a fast 16.36. (An interesting aside is that Ciara is coached by former Clonliffe great Eamon Tierney.) Second-place was Clonliffe's Emma Mitchell, still feeling the after-effects of her marathon debut some four weeks ago, in a time of 16.54 with another Clonliffe Harrier, Becky Woods next in in 17.18.
In the junior categories firstly the top three men: 1st Ben Guiden (Clonliffe), 2nd Niall McKnight (Annadale), 3rd Aaron Cullen (Clonliffe). The top three junior women were all members of the host club: 1st Sarah Bateson, 2nd Aoife Hession, 3rd Naoise Cullen.
Master women: W 40: Dearbhla Greene (Dunleer), Maura Matthews (Clonliffe). W 50: Annette Kealy (Raheny), Josephine Killeen. W 60 Therese Savage, Deirdre Devine.
Master men: M 40: Shane O'Neill (Rathfarnham), Declan Power (Clonliffe). M 50: Dominic Horan (Sli Cualann), Eoin Brady (Raheny). M 60: Desie Shorten (Parnell), Richard Kavanagh.
A few notable PB's were recorded by the Clonliffe crew today including Ben Guiden 15.31, Stephen Cashin 15.59, Laura Tuite 18.53, Naoise Cullen 20.26, Katie Halpin 20.45 and Amy Sheehy 22.13.
Clonliffe Harriers would like to record our appreciation to our extremely generous sponsor ERP, the Gardai, St. John's Ambulance, Morton Stadium and the army of club volunteers who made themselves available and assisted in an extremely successful day.
Finally Clonliffe would like to extend our deepest sympathies to our friends in Raheny Shamrocks on the very sad passing of Maeve Devlin at a race yesterday. As a mark of respect the field at today's race marked a moments silence before the starters 'gun'. Rest in peace.
Link to today's results: https://www.myrunresults.com/events/morton_stadium_xmas_cracker_5k/3437/results
Photos: https://flic.kr/s/aHsmKkETSw