With barely a minute to draw breath the Clonliffe cross country squad are at it again this Sunday with the Dublin intermediate cross country championships taking place at Tymon Park North. Once again there is great support from the clubs athletes with over 30 athletes committed meaning both captains are in a position to field big numbers.
Women's team: Jenny Johnston, Laura Power, Kate Hawkshaw, Sarah Hawkshaw, Meghan O'Keeffe, Hannah Browne, Aoife O'Sullivan, Kate Connell, Aisling Killilea, Marie Howard, Julie Larkin, Ciara Peelo, Yvonne McDonagh, Mel Curran, Maura Matthews, Edel Maguire, Vanessa Fenton, Siobhan Devaney. (Any issues contact Jenny: 0876929758)
Men's team: Ian McAlweeney, Thomas Balthazar, Cathal McHale, Niall Sherlock, James Murphy, Georges Legentil, Paul Keenan, Ger Kirwan, Declan Power, Larry McKenna, Murray Ahern, Scott Crowley, James Dunne, Alan Worrall, Stephen Harkness. (Any issues contact Noel 0879599888)
The women's race, 5,000m, start at 1:30 PM with the men's 8000m at 2 PM, in both cases it is the first four across the line to score. The respective teams are asked to be on the course to meet up 90 minutes before your race. The best of luck to our athletes in this championship.
Course Map: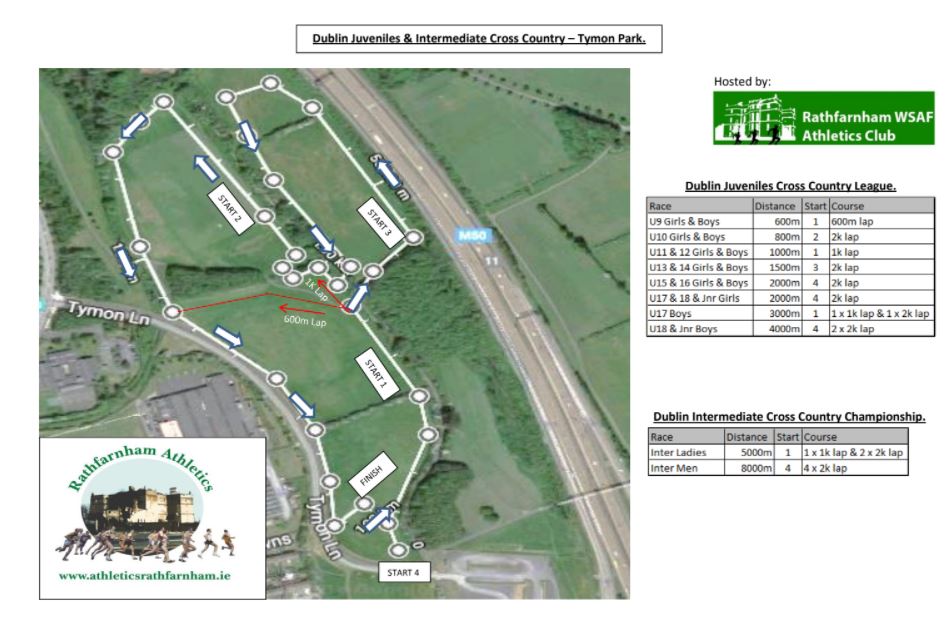 How to get to course: