Eugenia Bateson Reports: Day 2 of the League in the blustery conditions saw our youngest to our more experienced U16's dazzle in the Morton Stadium.
Amongst the many impressive performances, far too many to mention saw U10 Boy Issac O'Neill dominate. For Issac, it was a day most athletes can only dream of. U10 Boys Long Jump 1st Place, U10 Boys 100m Heat – 1st Place, 100m Semi Final, 1st Place, Final 1st Place, and that was just him warming up!! 500m was his distance event for the day and once again, 1st Place. All comfortable, all strong, no question marks and all with a quiet confidence as he cheered home his training partners throughout the day. A special well done to Issac and his coach, Leo Hession.
Issac was one of many of the impressive performances of the day.  The U10's took to competition for the first time for most, not that you could ever have guessed.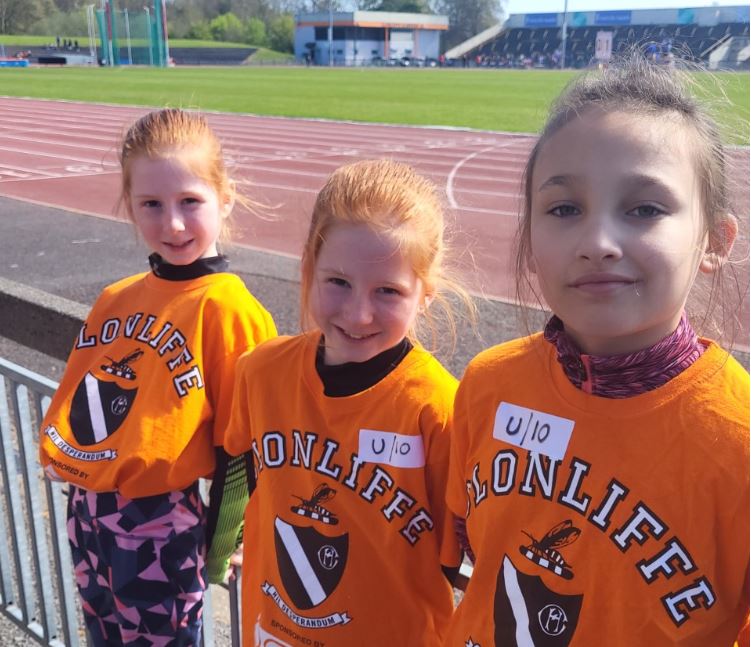 Sprints:U10 Girls 60m saw 6 heats with Clonliffe represented in each.  1st to take to the start line was Ava Fagan who set the bar high.  A strong start from Ava saw her take 4th place and into the semifinal.  Giving the rest of the U10 girls confidence, next up was Victoria and Sarah who took 5th and 6th in their heats.  In the 3rd heat , Millie ran an impressive 4th place going through to the semifinals.  4th Heat was Ava's twin, Lucy who finished 6th having only recently joined the club with Kayla and Sophia both taking 7th place in their heats.  Ava and Millie did exceptionally well in the Semi Finals both taking 6th position.  Well done to all and to coach Yvonne for a fantastic debut in the track events.
U10 60m Boys, Issac O'Neill stole the whole show with 1st, in heats, semi and the final, but his training partners were also very impressive. Josh took 4th place in his heat and into the semifinal, Oisin was a solid 2nd in his heat, also into the semifinal, Sebbi was 6th in a very strong heat, Darragh 4th and Reece 3rd both through to the semifinals. Reece was unfortunate not to go through to the final in a photo finish was awarded 5th, Josh and Oisin both taking 6th in their Semi Finals. Great days to come for these guys who really put it up to their competitors today.
U11 60m Girls saw Faith Hanlon take a brilliant 2nd in her heat. She won her Semi Final and in a stacked final, finished 7th overall. Great talent coming through from Faith, one to watch. Saoirse came 3rd in her heat and finished 7th in her Semi Final. Arancha was 7th in her heat and definitely has good days ahead of her. Faith Halon came 1st place in the Turbo – well done to her.
U11 60m Boys, Sammy won his heat comfortably through to the Semfinal where he came 3rd. He ran very well in the Final taking 6th place. Gavin also won his heat, running very well and took a 4th position in the Semi Final. Andrew was 4th in his heat and into the semifinal, Darragh and Rian both came 5th in their heats. Seamus was unlucky that his heat had to be re-run and having finished 4th initially finished 6th in the re-run. Seamus will only have benefited from the fine runs he had in both and we look forward to see what more is to come from him and this talented group.
U12 Girls 80M saw Aoife take a fine 2nd in her heat and 7th in the semifinal. Paige finished a strong 6th in her heat.
U12 Boys 80M, Callum finished 4th in his heat taking him into the Semi Final, where he finished 7th with a good performance. Ben and Joel both finished 6th in their heats with Aidan and Robert both in the same heat finishing 7th and 8th respectively. Well done lads, a great start to their competition careers.
U13 Girls 80m saw Lucy and Hannah take 6th in their heats with Emily and Laura both 7th in their heats. Very strong competition and the girls certainly held their own.
U14 Boys 100m Final – Bradley King finished in a very strong 4th place. One to watch
U15 Boys 100m Final – a brilliant run by Brooklyn Jackson saw him rewarded with 5th place.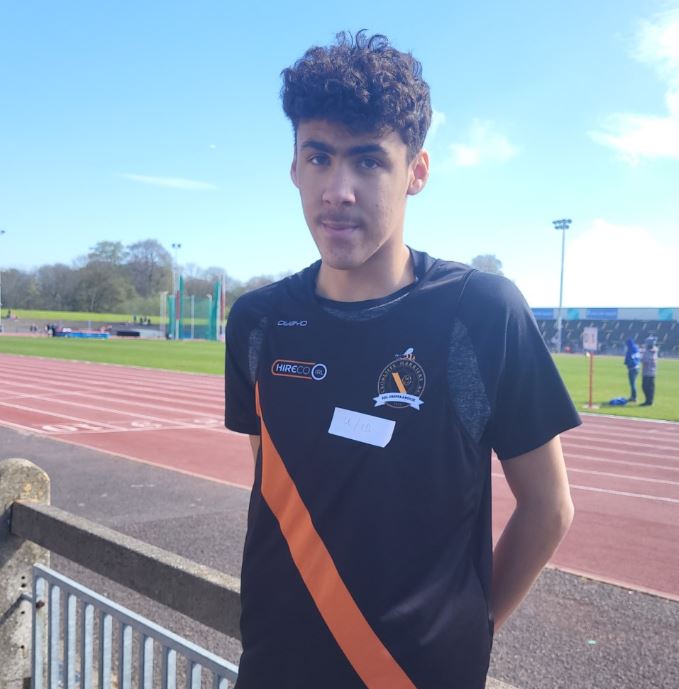 U15 Girls 100m Final – Abbie Smith finished 7th with Ellen Morgan in 8th – well done to both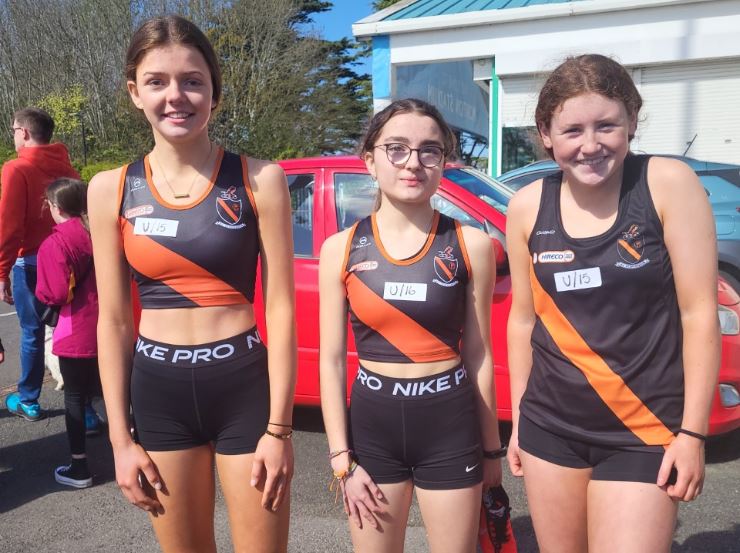 U16 Boys 100m Final – Jaydon Carroll finished with a fine run. Jack finished 6th with Jake taking the 7th spot
U16 Girls 100m Final – Having finished 3rd in her heat Sarah McDonnell took a fine 5th in the final adding to her league points with Caoimhe Del Velo finishing 7th.  Great performances from both.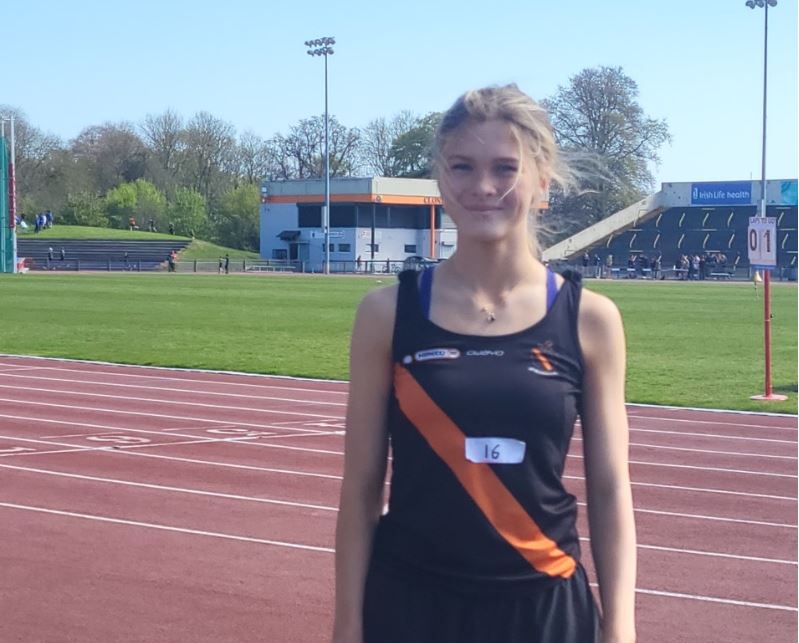 Middle Distance:Distances were up next and the U10 Girls are back to show the older ones how it is done. There were 3 heats in the U10 Girls with the 6 fastest times being awarded the league points. Ava Fagan is first up again and this young group started out as fast, if not faster than they did in their 60m race!! Ava was in the mix from the gun and was a force to be reckoned with. Ava finished 4th in her heat. Her twin Lucy was up next and also had lightning speed at the start of this heat. Strong focus saw Lucy battling hard with 300 to go and she dug in rewarded with an impressive 10th place finish. Sarah was in the 3rd heat and settled in very well from the start. She ran a good consistent race finishing 6th in her heat. Victoria ran the final very well in her heat with a brave final 100m finishing 13th. Final times were not available at the end of the meet but regardless of points, I think our middle-distance development is in a good place with this group.
U10 Boys saw Issac dominate from the gun. He basically owned it from the gun, no one threatened him, though they tried and he took yet another 1st place position. U10 boys are also preforming well with good futures in distance running, Finn had a fine 7th place finish, Oran and Tom both took 10th in their heats, Oisin 11th and Reece 12th. A fantastic debut meet from this age group.
U11Girls moved the distance to 600m. Nessa was our only girl at this distance and finished very well in 8th. Well done to her.
U11Boys 600m saw Andrew take 8th and Sennan take 10th in the first heat, with Sammy taking 4th in the 2nd heat followed by Seamus and Darragh in 10th and 11th in a sprint finish.
U12 Girls 600m saw Cawwagh take 7th and Sophia take 9th place. A fantastic heat for them.
U12 boys 600m had two heats, Robert and Aidan were 12th and 13th in their heat with Joel in 8th followed by Ben in 10th in their heat.
U13 Girls 600m saw Lucy take a good 15th position with Emily in 18th. A very strong field where the girls preformed very well and some nice promise in their potential.
U13 Boys 600m saw Sebbi Ursachi take 5th in his heat which was very competitive, Caun finished 7th with Sean in a comfortable 10th.
U14 Boys 800M saw some fantastic racing. Edward Blaque took 6th place in a very fine run with Bradley hot on his heels in 7th and Conor in 12th. Brilliant runs from all.
U15 Girls 800m was dominated from the gun by Ellen in a very impressive win. Abbie was also very strong with a 6th place finished followed by Aiden in 7th, Sandy Rose in 8th and Rachel in 10th with a very strong sprint finish in the last 80m.
U15 Boys saw Joar take on this very fast 800m. Joar finished very well in 13th place
U16 Girls saw Rebecca Walsh as the only Clonliffe girl on the start line. A strong start from Rebecca positioned her nicely in the windy conditions. She ran a very strong race finishing overall in 3rd. Rebecca is building great confidence and promise as we move towards the Dublin Championships.
U16 Boys was well represented by Gerry Carr's boys. Rory was in the top 3 from the gun, running strong and biding his time. Rory took a very comfortable 2nd place. Jake Kane, normally preferring the sprints had a very fine run finishing in 5th with Jack McDonald hot on his heels in 6th. Cathal returning to his fine form finished 8th in a good run from him with Aaron just back to racing in 13th.
Field Events:As mentioned, we had wins in U10 Boys Long Jump from Issac and U11 Turbo from Faith. There were also discus, and shot putt on offer and the younger athletes were well up to show off their training. Kayla, Millie, Victoria, Sophia, Ava, Lucy, Clodagh and Charlotte all took part in the Long Jump. Darragh, Gavan, Sammy, Rian, Andrew and Seamus took on the shot put.
Apologies for any omissions – it was an action-packed day and hard to keep track with all the excitement. Overall, a very successful day for Clonliffe Juveniles.
A very special thanks to the Coaches and parents who took on a long cold, but rewarding day, in the Morton Stadium for Round 2 of the league.